Table Needs Helps Restaurant Owners & Food Truck Operators Get Paid Faster With Next-Day POS Deposit Schedule
Press Release
•
Jun 22, 2023
Increase Financial Control With Quick, Simple, Secure Credit Card Processing and Account Transfers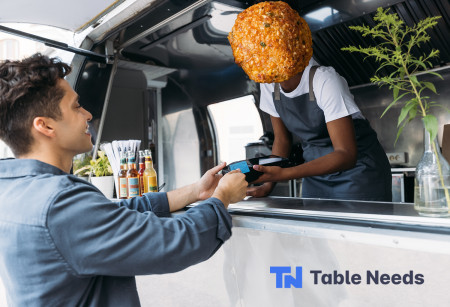 MOBILE, Ala., June 22, 2023 (Newswire.com) - Table Needs, Inc., a leading provider of restaurant technology and business services for quick service restaurants, cafes and food trucks announced today the launch of next-business-day point of sale (POS) deposits.
Restaurant owners and food truck operators can now receive payments from credit card transactions in as little as one day as part of the Table Needs Point of Sale standard operations.
FASTER DEPOSITS = FINANCIAL CONTROL
Next-business-day POS deposits increase financial flexibility and freedom for quick-service restaurant, cafe and food truck owners. When using Table Needs POS to make sales and process credit cards, restaurateurs don't need to wait multiple days before making payroll or restocking inventory. Faster deposits also provide more flexibility to invest in other areas of the business, such as marketing and growth opportunities.
"Waiting around for hard-earned deposits to drop into accounts puts stress on multiple areas of a business and inhibits growth," says Ben Simmons, CEO of Table Needs. "Our goal here at Table Needs is to make running a restaurant or food truck easier, and offering next-day transfers directly contributes to that mission."
NEXT-BUSINESS-DAY TRANSFER SCHEDULE FROM TABLE NEEDS
Seamlessly integrated with the point-of-sale system, the Table Needs standard transfer schedule automatically deposits payments into linked accounts as follows:
Transactions made Monday through Thursday will be deposited the next business day.
Transactions made on Friday will be deposited on the following Monday.
Transactions made on Saturday and Sunday will be deposited on the following Tuesday.
"Delivering quicker, more secure payouts is essential to having a thriving business and we are thrilled to deliver a fantastic solution with next-day transfers," said David Frahm, COO of Table Needs.
A SIMPLER, SAFER WAY TO RECEIVE DEPOSITS
Transactions are batched by bundling charges that occur during a specific period of time. For example, all credit card payments made between 12 a.m. and 11:59 p.m. on Monday will be batched and transferred to a linked account by Tuesday morning.
Instead of many small transactions delivered to a linked bank account, next-day transfers are delivered as one single transaction per day. This minimizes the possibility of errors and oversights, and protects accounts from fraudulent activity — keeping quick service restaurant owners and food truck operators financially secure.
TO LEARN MORE ABOUT TABLE NEEDS PRODUCTS AND SERVICES
Products
Services
Resources
ABOUT TABLE NEEDS
Table Needs, Inc. is a fast-growing provider of restaurant technology and business services for quick-service restaurants, coffee shops, and food trucks. Built to grow with your business without requiring disruptive updates or hardware overhauls, restaurants can start where they are and add on features, like commission-free online ordering, sales tax automation, cash discount program, staff management, digital marketing, bookkeeping, and more, as goals and growth develop. For more information about Table Needs Needs, visit https://tableneeds.com/.
Source: Table Needs, Inc.
Related Media