TABLE FOR TWO 'Change the World With Onigiri (Rice Ball) #OnigiriAction' Provides 1 Million School Meals With Over 200,000 Onigiri Photos
Press Release
-
updated: Dec 19, 2018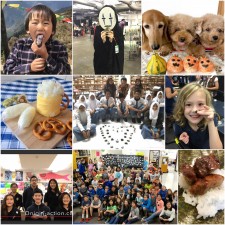 NEW YORK, December 19, 2018 (Newswire.com) - TABLE FOR TWO (TFT) USA, a nonprofit organization that aims to tackle obesity and worldwide hunger issues, organized their fourth annual social action campaign called "Change the World with Onigiri (Rice ball) #OnigiriAction." The campaign, which commemorates World Food Day, ran from Oct. 10 to Nov. 20. During the campaign, every photo of a Japanese rice ball (or onigiri) posted to the campaign website or social media with #OnigiriAction helps feed five children around the world. More than 200,000 photos were posted from all over the world by TFT fans and supporters. These photos made an impact. TFT can fund one school meal for a child in Africa with a single 25-cent donation. In the U.S., the same 25-cent donation can be used to add fresh vegetables and fruits to one school meal served in socioeconomically disadvantaged neighborhoods. The campaign is supported by: J.C.C. Fund/Japanese Chamber of Commerce and Industry of New York, JFC International/Nishiki, Japan Commerce Association of Washington D.C. Foundation, Zojirushi America, San-J, ITOCHU International, SMBC Global Foundation, Misuzu Corporation, MUFG Union Bank, N.A., Otafuku Foods, Just One Cookbook, BentOn, and Onigilly.
In total, the program generated 201,023 onigiri photos from all over the world – nearly 200 percent more postings than the campaign in 2016. Through this call to social action, TFT will provide 1,050,000 warm school meals, enough to support 5,200 children in need for one school year. To commemorate this success, a mosaic of a smiling child in Africa was created using the posted photos. Among all the great photos, the "Best of the Best Onigiri" photos were awarded. You can view the winning photographs here: https://onigiri-action.com/en
1. "Wow" Location Award (top row, left)
[Bhutan] "Satisfying onigiri enjoyed at 3,900 meters on the top of Mount Chele La."
2. Onigiri Halloween Award (top row, center)
[USA] "No one can resist a delicious onigiri - not even No Face Kaonashi from Miyazaki's 'Spirited Away.'"
3. Onigiri Smile Award (top row, right)
[Japan] "Seeing you all look happy with the onigiri makes us smile too. :-)"
4. Most Creative Onigiri Award (middle row, left)
[Germany] "This is a typical Munich, Germany's breakfast. Pretzel, weisswurst (white sausage), and beer!"
5. Most Creative Onigiri Award (middle row, center)
[Indonesia] "Symbolizing the global love of Onigiri Action."
6. Onigiri Kids Award (middle row, right)
[USA] "Washington, D.C. student shows the world how to make the smallest rice ball!"
7. Best Onigiri Story Award (bottom row, left)
[USA] "The Japanese National Honor Society at Hawaii Baptist Academy led a school-wide Onigiri Action project. The high school students showed their curiosity, compassion, and spirit by making a special PR video to explain what an onigiri is and make a call for Onigiri Action!"
8. Best Onigiri Story Award (bottom row, center)
[USA] "In Virginia, the entire Fox Mill Elementary school – students and parents – banded together to tackle worldwide hunger! The school posted over 800 photos, beating their goal of 550. Students also created a banner with encouraging messages to children in need."
9. Best Onigiri Story Award (bottom row, right)
[Hong Kong] "Five cultures came to create this rice ball feeding five children in need – rice recipe from a Japanese chef, pork belly recipe from a Chinese chef, instruction on forming onigiri from a Singaporean, and a husband and wife pair who met in England and live in Hong Kong formed the rice balls together. From five to five across the world."
Our campaign expanded this year with events spanning across the United States.
In New York City, TFT participated in Anime Fest at NYCC x Anime Expo on Oct. 6. Sporting their fantastical and creative costumes, participants lined up to make onigiri at our TFT booth. SMBC organized an exclusive Onigiri Action event at their office, where staff and executives rolled up their sleeves together to join our campaign and make a difference around the world. Although pre-made onigiri was offered, many participants jumped into trying to make onigiri for the first time! With generous support from Mitsui Fudosan America, Hines, ITOCHU International, and MUFG Union Bank, N.A., we held a pop-up Onigiri Event in the lobby of the 1251 Avenue of the Americas skyscraper. We passed out more than 500 onigiri!
In Los Angeles, we were honored to partner with Sanrio to organize a Hello Kitty-themed onigiri action event with the Japan Foundation Los Angeles at the Japan House. Meanwhile, students in Southern California participated in an Onigiri Event generously supported by MUFG Union Bank, N.A., who even provided employee volunteers to host the event. In Washington, D.C., the Japan Information and Culture Center at the Embassy of Japan and DC Public Schools worked together to help students at the John Eaton Elementary school learn about Japanese food culture and the challenges of world hunger. Students were called to action, and many took the opportunity to post images of their rice balls helping to feed children in need. We also partnered with a local Girl Scouts troop. The girls in the troop learned about worldwide hunger and food issues. Keeping with the organization's mission to make the world a better place, the girls contributed photos of their rice balls helping to feed children in need around the world. Not just in Washington, D.C., students from across the country joined us in Onigiri Action events organized at their schools rising to meet the challenge of achieving zero hunger around the world.
In Germany, six charity Onigiri Action events were held. Participants learned how to make creative onigiri, while also making a difference in the lives of children around the world.
TABLE FOR TWO USA Co-President, Mayumi Uejima-Carr said, "The results of this year's Onigiri Action Campaign exceeded our expectations. Photos were posted from all over the country, including from schools and organizations that had not participated last year. As the title of our campaign promises, onigiri did change the world. Numerous events were held nationwide to introduce onigiri over the course of a month. We were inspired by the enthusiasm we saw for this unique social action campaign. For instance, many schools from kindergarten to college organized onigiri workshops to enjoy learning about new Japanese food, while making a positive difference at the same time. We were very happy to see all the fun and heartwarming photos from adults, teens, and children all over the world. We appreciate everyone's support in bringing many smiles to those in need."
To visit the campaign site, please visit: https://onigiri-action.com/en. For more information about TFT, please visit: http://usa.tablefor2.org
About TABLE FOR TWO USA:
TABLE FOR TWO USA (TFT) is a 501(c)(3) organization that that addresses the opposite issues of hunger and obesity through a unique "meal-sharing" program. TFT partners with corporations, restaurants, schools and other food establishments to serve healthy TFT-branded meals. For each one of these healthy meals served, a small portion of the cost is donated to provide one school meal for a child in need. In this way, TFT has served healthy meals to both sides of the "table" and helped to right the global food imbalance. TFT started in Japan and now operates in 14 countries. In its Onigiri Action campaign, Onigiri was featured to celebrate rice, one of the major Japanese agricultural products and to showcase the Japanese tradition of making onigiri for others with love. As one of the most well-known NPOs in Japan which is noted for the longevity of its people, TFT promotes Japanese healthy eating culture as well to tackle critical health issues.
Media Contact:
Jessy LeClair​
​Communications Manager, TABLE FOR TWO USA
E: j.leclair@tablefor2.org
Source: TABLE FOR TWO USA
Share:
---
Categories: Non Profit, Corporate Social Responsibility
Tags: Children, Community Service, Food Education, Healthy Eating, Hunger, Japanese food, NPO, Obesity, Onigiri, Washoku, World Food Day
---