TABLE FOR TWO Celebrates World Food Day 2018 - Change the World With Onigiri (Rice Ball) #OnigiriAction
Aims to Promote Healthy Japanese Food While Providing One Million Meals to Children in Need
Press Release
-
updated: Oct 10, 2018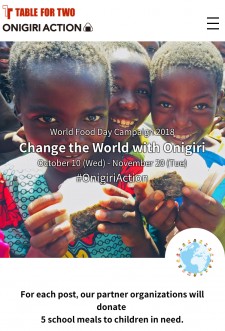 NEW YORK, October 10, 2018 (Newswire.com) - This fall, TABLE FOR TWO USA (TFT) invites everyone to participate in their "Change the World with Onigiri #OnigiriAction" campaign from Oct. 10-Nov. 20. The campaign commemorates World Food Day, established in honor of the founding of the Food and Agriculture Organization by the UN in 1945. Onigiri Action aims to provide one million meals to children in need around the world. As an NPO with roots in Japan, the TABLE FOR TWO USA campaign highlights onigiri (or Japanese rice balls) made from rice, one of Japan's major agricultural products. In Japan, rice balls are a simple comfort food made for others with love. During the campaign, every photo of a rice ball posted on the Onigiri Action website or social media with #OnigiriAction will provide five meals to children in need. Last year, 160,425 onigiri photos were posted by people from all over the world, providing 975,000 warm school meals. Over 4,500 children were able to eat for an entire school year. The Onigiri Action campaign received the "Asia Marketing Excellence Awards for Marketing 3.0" from the Asia Marketing Federation as a socially responsible marketing program.
To participate, visit the Onigiri Action interactive website to post a photo or post a photo on social media with #OnigiriAction. For every onigiri photo posted, our sponsoring organizations (*) will donate five school meals to children in need. To participate, please visit https://onigiri-action.com/en/. 
As part of the campaign, TABLE FOR TWO will also be hosting onigiri-making workshops in New York City, Washington, D.C., Boston and California, where attendees can learn to make traditional Japanese rice balls, onigiri. Onigiri, while simple – just rice, savory fillings and seaweed – form a cornerstone of Japanese cuisine.
Onigiri Art Workshop
Saturday, Oct. 27
Japan Foundation Los Angeles/Japan House Los Angeles
Join us and have fun while participating in Onigiri Action. Learn how to make traditional onigiri as well as creative onigiri that use ingredients such as seaweed and vegetables.
Change the World with Onigiri @ Schools
Oct. 10-Nov. 20
K-12 schools and universities (All states)
Over 20 schools hold Onigiri Action events as part of classroom, club or whole school activities. Students learn global food-related issues and simple, fun and tasty ways to take actions. Any school can easily organize an event by using the Onigiri Action-related materials for schools (case studies, presentation slides and videos) available at TFT's website: http://usa.tablefor2.org/materials.
Mini Cooking Class: Creative Onigiri – Supporting Onigiri Action
Friday, Oct. 12
Japan-America Society of Washington Office
(1819 L St NW B2, Washington, D.C. 20036)
During the class, learn how to make traditional onigiri (rice balls) as well as creative onigiri that use ingredients such as seaweed and vegetables, and support TABLE FOR TWO's Onigiri Action.
Making Onigiri to Make a Difference
Tuesday, Oct. 16
Japanese Friendship Garden Society of San Diego
(2125 Park Blvd Ste. 2, San Diego, CA 92101)
Join us for a family friendly Onigiri Action event. Make tasty and fun onigiri to eat and make a difference.
Oishii November
Thursday, Nov. 8
Showa Boston
(420 Pond St, Jamaica Plain, MA 02130)
Join us for a fun-filled and educational evening to make delicious (oishii) popular Japanese foods to make a difference.
"We are thrilled to launch our World Food Day campaign this fall in an effort to provide meals to children in need," said Mayumi Uejima-Carr, co-president of TABLE FOR TWO USA. "We hope as many people as possible take advantage of this unique opportunity to make a difference in the world while enjoying Japanese soul food, onigiri."
*The Onigiri Action 2018 campaign is generously supported by: J.C.C. Fund/Japanese Chamber of Commerce and Industry of New York; JFC International/Nishiki; Japan Commerce Association of Washington D.C. Foundation; Zojirushi America; San-J; ITOCHU International; SMBC Global Foundation; Misuzu Corporation; MUFG Union Bank; N.A., Otafuku Foods; Just One Cookbook; BentOn; and Onigilly.
In addition, a portion of the proceeds from the products below will be donated towards providing school meals: Nishiki Rice (JFC International); Rice Cooker (Zojirushi America); Tamari Soy Sauce (San-J); Tamaki Quick Cook Brown Rice (ITOCHU International); Over 70 onigiri items (Tokyo Central's online store); Inari (Misuzu Corporation); Okonomiyaki Pancake Mix (Otafuku Foods); Just One Cookbook eBook – Essential Japanese Recipes (Just One Cookbook); Brown Rice Plum Basil Hijiki Onigiri/Five Grains Konbu Onigiri (BentOn); Onigilly (Onigilly); Onigiri (Hana Japanese Market); Fresh Miso Soup from Miso Soup Dispenser (Marukome); Echigoya Koshihikari (Echigoya); Sushi Workshop for Good (Sushi Chef Institute); and Orinigiri workshop (Orinigiri).
About TABLE FOR TWO USA:
TABLE FOR TWO USA (TFT) is a 501(c)(3) organization that addresses the joint issues of hunger and obesity. First established in Japan in 2007, the organization has expanded to 14 countries, including the United States. In the US, TABLE FOR TWO launched the "Wa-Shokuiku – Learn. Cook. Eat Japanese!" (www.wa-shokuiku.org) program to educate American schoolchildren about healthy eating practices, inspired by Japanese culture and cuisine. TFT runs a unique "meal-sharing" program by partnering with companies, restaurants and schools to serve healthy TFT-labeled meals. Every meal purchased provides a meal to a child in need. TFT works to help correct the global food imbalance. For more information about TABLE FOR TWO, please visit http://usa.tablefor2.org.
Media Contact:
Jessy LeClair
Communications Manager, TABLE FOR TWO USA
E: j.leclair@tablefor2.org
Source: TABLE FOR TWO USA
Share:
---
Categories: Non Profit, Corporate Social Responsibility
Tags: Children, Community Service, Food Education, Healthy Eating, Hunger, Japanese food, NPO, Obesity, Onigiri, Washoku, World Food Day
---
Related Files
Additional Links