TABLE FOR TWO Celebrates World Food Day 2017 - Change the World With Onigiri (Rice Ball) #OnigiriAction-
Press Release
•
updated: Sep 28, 2017
Aims to Promote Healthy Japanese Food while Providing 1 Million Meals to Children in Need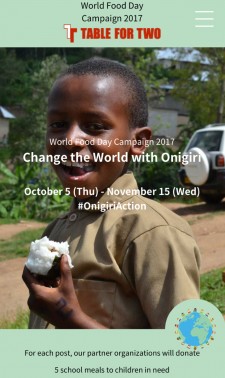 NEW YORK, September 28, 2017 (Newswire.com) - This fall, TABLE FOR TWO USA (TFT), a non-profit organization that aims to tackle obesity and hunger issues simultaneously, will invite the public to participate in their World Food Day 2017 Campaign from Oct. 5th to Nov. 15th. The campaign promotes healthy Japanese food and aims to provide 1 million meals to children in need. The campaign features the popular Japanese food "Onigiri" (rice ball). TFT supporters, Japanese food enthusiasts, and anyone looking to eat well while advancing an important mission are invited to visit the interactive online site (http://jp.tablefor2.org/campaign/onigiri/en) where everyone can participate by posting photos of onigiri preparation and enjoyment. TFT will host events in New York City, Washington DC, California and Michigan.
TABLE FOR TWO was first established in Japan in 2007 and has expanded to 14 countries, including the United States. Japanese food culture is acknowledged as one of the world's healthiest and is gaining popularity widely around the world. As an NPO with roots in Japan, TFT promotes the enjoyment of Japanese food. Onigiri is featured to celebrate rice, one of the major Japanese agricultural products, and to showcase the Japanese tradition of making onigiri for others with love.
The World Food Day campaign will feature a special interactive site that will be active from Oct. 5th until Nov. 15th; TFT fans and supporters can submit photos of their own onigiri enjoyment to the site. They can also post photos on their own social media with #OnigiriAction. Sponsor organizations (*) will donate five school meals per photo submitted. In Africa, a 25 cent donation can provide one school meal to a child. In the U.S., the same donation enables schools to provide a school meal upgraded with fresh vegetables and fruits in low-income neighborhood school districts.
*Sponsor organizations: J.C.C. Fund/Japanese Chamber of Commerce and Industry of New York, JFC International/Nishiki, Japan Commerce Association of Washington D.C. Foundation, Zojirushi America, San-J, ITOCHU International, SMBC Global Foundation, Tokyo Central/Marukai, Misuzu Corporation, Otafuku Foods, Arawa City, Just One Cookbook, BentOn, Onigilly, Mama Musubi
Last year's Onigiri Action generated 108,815 onigiri photos from all over the world – 20 times more than the previous year. TFT could provide 850,000 warm school meals that were enough to support 4,000 children in need for one school year. The Best of the Best onigiri photos were selected and recognized. The Onigiri Action received "Asia Marketing Excellence Awards for Marketing 3.0." for being a socially responsible marketing program in mind, heart, and spirit by Asia Marketing Federation, one of Asia's foremost governing bodies in marketing. The 2017 Campaign strives to have over 200,000 photos posted.
A portion of the proceeds of the featured products below will be donated for school meals:
Nishiki Rice (JFC International), Rice Cooker (Zojirushi America), Tamari Soy Sauce (San-J), Tamaki Quick Cook Brown Rice (ITOCHU International), Over 70 onigiri items (Tokyo Central's online store), Inari (Misuzu Corporation), Okonomiyaki Pancake Mix (Otafuku Foods), Just One Cookbook eBook – Essential Japanese Recipes (Just One Cookbook), Brown Rice Plum Basil Hijiki Onigiri/Five Grains Konbu Onigiri (BentOn), Onigilly (Onigilly), Gourmet Rice Balls (Mama Musubi), Fresh Miso Soup from Miso Soup Dispenser (Marukome), Echigoya Koshihikari (Echigoya), Sushi Workshop for Good (Sushi Chef Institute), Orinigiri workshop (Orinigiri), Miso Onigiri and Shio koji salmon Onigiri (Aedan).
TFT has recently launched its new food education initiative, "Wa-Shokuiku: Learn. Cook. Eat Japanese!". This project aims to teach elementary and high school students in the U.S. about Japanese food and foodways through hands-on cooking and learning activities. In conjunction with the Onigiri Action, TFT will host the onigiri/obento workshops below, which are signature classes of Wa-Shokuiku.
Kids Kawaii Onigiri Workshop
10/22(Sun) 4 p.m.-
11/7(Tue) 4 p.m.-
Au Fudge (9010 Melrose Ave West Hollywood, CA)
Learn how to make kawaii (cute) character rice balls, a fun and creative take on onigiri ― the most popular Japanese snack. You will make cute and adorable food that you can eat and make a difference! $5 from the participation fee will be donated to support the Onigiri Action.
JAPANFes feat EDO
10/22(Sun) 10 a.m.-6 p.m.
Broadway btw 92th & 94th street, New York
TFT will sell healthy Japanese food items donated by its partner companies. All the proceeds will be donated to support providing school meals to children in need. TFT will provide an onigiri lesson and participants can try their own hand at making onigiri at the TFT booth.
Making Onigiri to Make a Difference
10/6(Fri) 6-8 p.m.
The Japan-America Society of Washington DC (1819 L St NW B2, Washington, DC)
Ms. Takako Taniwaki, an instructor of TFT's new food education program "Wa-Shokuiku -Learn. Cook . Eat Japanese!-", will teach how to make onigiri and onigirazu (rice sandwich) with delicious fillings and all can join the Onigiri Action!
Change the World with Onigiri
10/18(Wed) 11 a.m.-12 p.m., 6-7 p.m.
Koby Learning Group (24055 Meadowbrook Rd. Novi, MI)
Participants can taste the onigiri and take photos with onigiri to join the Onigiri Action. They'll learn how they can support to change the world.
Aedan @ Farmers Market
*Ferry Plaza Farmers Market: Every Saturday between 8 a.m.-2p.m., 1 Ferry Building #50, San Francisco
*Divisadero Farmers Market: Every Sunday between 10 a.m.-2 p.m., 700 Divisadero St, San Francisco
Aedan sells Miso onigiri and Shio koji salmon onigiri at the farmers market. 25 cents from the proceeds of each purchase will be donated for the Onigiri Action to provide a warm school meal to a child in need. Enjoy Aedan's delicious onigiri to make a difference!
"We are thrilled to be launching our World Food Day campaign this fall in an effort to provide meals to children in need," said Mayumi Uejima-Carr, Co-President of TABLE FOR TWO USA. "Everyone can take part in the campaign through the campaign site, Wa-Shokuiku workshops and participating restaurants. We hope as many people as possible are able to enjoy this unique opportunity to make a difference by eating healthy Japanese food."
To visit the campaign site, please visit http://jp.tablefor2.org/campaign/onigiri/en. For more information about TFT, please visit http://usa.tablefor2.org.
About TABLE FOR TWO USA:
TABLE FOR TWO USA (TFT) is a 501(C)(3) organization that that addresses the opposite issues of hunger and obesity through a unique "meal-sharing" program. TFT partners with corporations, restaurants, schools and other food establishments to serve healthy, low- calorie, TFT-branded meals. For each one of these healthy meals served, a small portion of the cost is donated to provide one school meal for a child in need. In this way, TFT has served healthy meals to both sides of the "table" and helped to right the global food imbalance. TFT started in Japan and now operates in 14 countries. As one of the most well-known NPOs in Japan which is noted for the longevity of its people, TFT promotes Japanese healthy eating culture as well to tackle the critical health issues. As a new initiative, TFT launched a food education program "Wa-Shokuiku – Learn. Cook. Eat Japanese!".
Media Contact:
Mayumi Uejima-Carr
Co-President, TABLE FOR TWO USA
E: m.uejima@tablefor2.org
P: 318-359-9736
Source: TABLE FOR TWO USA
Related Media
Tags
Related Files
Additional Links