Syri-Arts and Christie's Auction Saving a Generation Through Education
Press Release
•
updated: Feb 28, 2018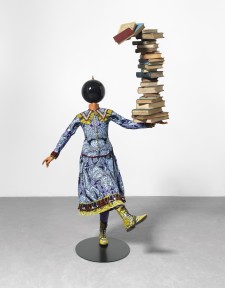 LONDON, February 28, 2018 (Newswire.com) - Friends of Kayany, a U.S. public charity, is delighted to partner with Christie's and Kayany Foundation on a selection of special lots by stellar Middle Eastern and international artists to be auctioned to raise funds for the education and support of Syrian refugee children in Lebanon.
Syri-Arts: Saving a Generation Through Education
Artists include Antony Gormley, David Altmejd, David Hockney, Ed Ruscha, Etel Adnan, Frank Stella, Gerhard Richter, Jenny Holzer, Mona Hatoum, Oscar Murillo, Peter Lindbergh, Phyllida Barlow and Yinka Shonibare
"It really is a pleasure for me to contribute to this cause. It truly touches me. It's so important." - David Altmejd
The devastating conflict in Syria has led to one of the greatest refugee crises of our time, with neighbouring Lebanon taking in more refugees per capita than any other country in the world. One in every four people in Lebanon is a refugee, and of these, 250,000 children are not attending school. Friends of Kayany partners with Kayany Foundation, a Lebanese nonprofit founded by Nora Joumblatt in 2013, that built and operates seven schools serving more than 3,500 Syrian refugee children living in Informal Tented Settlements. Kayany Foundation provides education, nutritional support and clothing to some of the most vulnerable children in the world. Friends of Kayany is proud to support its work. We can save a generation through education.
The Post-War and Contemporary Art Day Auction on March 7, 2018, Saving a Generation through Education, hopes to raise funds for the operation and building of more schools by Kayany. The sale features a selection of remarkable works generously donated by some of the biggest names in contemporary art, including Antony Gormley, David Altmejd, David Hockney, Ed Ruscha, Esther Kläs, Etel Adnan, Frank Stella, Gerhard Richter, Harold Ancart, Henry Taylor, Huguette Caland, Idris Khan, Jaume Plensa, Jenny Holzer, Larry Bell, Marwan, Mona Hatoum, Nabil Nahas, Oscar Murillo, Peter Lindbergh, Phyllida Barlow, Richard Mosse, Rudolf Stingel, Tony Cragg, Rashid Johnson, Secundino Hernandez and Yinka Shonibare, amongst others.
Says Friends of Kayany co-founder Wassim Rasamny: "Partnering with Christie's has been a wonderful collaboration. When we first approached them with our idea for an auction to benefit the Syrian children refugees, they at once understood and believed in our vision and mission. The artists and galleries who generously donated works to our auction have been extremely thoughtful in their choices. We received myriad genres, from esteemed international artists who, together, illustrate a beautiful, almost poetic, story of struggle, beauty, despair, hope and resilience, ultimately mirroring the very struggles, hope and resilience embodied by these refugee children."
Friends of Kayany is supported by a steering committee of celebrated international figures, including Alec Baldwin, Nicolas Berggruen, Albert Boghossian, Renee Fleming, Sir Elton John and David Furnish, Yoko Ono Lennon, Lord and Lady Rogers, Lord and Lady Palumbo, Yinka Shonibare, Trudie Styler, Christopher Tsai and Ai Weiwei. KAYANY'S first auction, held in 2013, raised enough funds to build and administer seven much-needed schools in Lebanon's Bekaa Valley. The proceeds from its second auction, Saving a Generation through Education, will go towards expanding these activities and supporting the construction of new schools.
Please find a link to download high-res images of selected lots: https://we.tl/Hqya3Mfa2M
To view the full catalogue, please click here: Syri-Arts Catalogue
For more information, contact Wassim Rasamny: wassim@syri-arts.org or + 33 6 32 55 00 09
Notes to Editors:
Works sold to benefit Friends of Kayany will be offered in the following auctions:
Post-War and Contemporary Art Day Auction: Wednesday, March 7, 2018, 1 p.m.
Viewing: March 2-7, 2018
First Open: April 9-17, 2018
Viewing: April 6-17, 2018
Lalique: May 15, 2018, 2:30 p.m.
Photographs: May 17, 2018, 12 p.m.
All auctions at Christie's, 8 King Street London SW1Y 6QT
About Friends of Kayany and Kayany Foundation
The Syrian War is now in its seventh year and has forced millions from their homes and into exile. The speed and scale of the Syrian catastrophe has forced these refugees into crushing poverty. Syrian refugee children suffer the most serious harm, from the painful scars of physical and psychological trauma to the lifelong disadvantage of receiving no education. They are becoming a lost generation. Friends of Kayany is a U.S. public charity that supports the schools built and operated by KAYANY Foundation, a Lebanese NGO. The two organisations share the same charitable mission of educating refugee children in a safe and supportive environment. KAYANY Foundation has a proven track record of providing refugee children with the quality education they deserve.
For more information, visit www.syri-arts.org.
About Christie's
Christie's, the world's leading art business, had global auction, private and digital sales in 2016 that totalled £4 billion/$5.4 billion. Christie's is a name and place that speaks of extraordinary art, unparalleled service and expertise, as well as international glamour. Christie's offers around 350 auctions annually in over 80 categories, including all areas of fine and decorative arts, jewellery, photographs, collectibles, wine and more. Prices range from $200 to over $100 million. Christie's also has a long and successful history conducting private sales for its clients in all categories, with emphasis on Post-War & Contemporary, Impressionist & Modern, Old Masters and Jewellery. Christie's has a global presence in 46 countries, with 10 salerooms around the world including in London, New York, Paris, Geneva, Milan, Amsterdam, Dubai, Zürich, Hong Kong and Shanghai.
For more information, visit www.christies.com.
Pre-auction Cocktail: 6:30 p.m., March 2, 2018
Auction: 1 p.m., March 7, 2018
Source: Friends of Kayany
Related Media
Related Files
Additional Links