Synthesis and Mediafly Partner to Provide Next-Level Sales & Marketing Solution for Investment Companies
Two Chicago-based companies join forces to offer investment managers a best-in-class content automation and sales enablement platform
Press Release
-
updated: Oct 23, 2017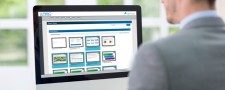 CHICAGO, October 23, 2017 (Newswire.com) - Chicago companies Synthesis Technology and Mediafly have partnered to enhance the way the world's banks and asset managers market and sell investments, providing a new, integrated, end-to-end content automation and sales enablement solution.
Synthesis is a leading supplier of technology and services that automate data, marketing content (like fact sheets, pitchbooks, and commentaries) and sales enablement processes for both boutique and major financial service firms. Mediafly offers an Evolved Selling Solution™ that goes beyond traditional sales enablement software, replacing static, linear selling techniques with a consultative approach that brings value at every step in the sales process.
In today's competitive marketplace, asset managers must be able to produce compliant content and provide it to their sales channels quickly and securely, on an easy-to-use platform. The two companies' new, integrated solution will allow asset managers to have the best of both worlds: A brilliant content automation solution coupled with an industry-leading sales enablement platform.
John Toepfer, CEO of Synthesis, encourages asset managers to focus on solutions with robust automation capabilities and professional implementation, as the quality of the automation setup directly influences the success of the initiative.
"Synthesis and Mediafly share the value system of putting client's needs first. The combination of technology and services we deploy is all about making sure the client has a low risk, fast, and successful experience. Additionally, the depth of capabilities our solutions provide together is truly unrivaled in the market."
A Rapid-Deployment Solution
For most asset managers, content automation and sales enablement technologies are both necessary parts of the tech stack, not just nice-to-haves. However, many firms are struggling to find systems that can handle all of their requirements, and deploy them within a reasonable timeframe and budget. For example, systems that require the client to do the majority of setup can take a year or more to deploy, and require one or two more headcount in Marketing.
Synthesis and Mediafly alleviate this burden by providing asset managers with a professional implementation that can be completed in as little as 14 weeks. Asset managers benefit from this approach, as it gets them up and running quickly without having to add additional headcount, budget or resources for the implementation and ongoing maintenance.
Mediafly's CEO, Carson Conant noted, "We are pleased to be partnering with Synthesis to deliver a best-of-breed solution that seamlessly solves the data automation, sales enablement and content management challenges that every financial services firm faces. Mediafly+Synthesis is delivered within weeks, allowing financial firms to get immediate value focused on driving better relationships and increased assets under management."
To learn more about the integrated solution, visit www.synthesistechnology.com/FlightDeck
About Synthesis Technology
Synthesis helps investment companies become more efficient, compliant, and customer-centric by automating data management, marketing operations, and sales enablement processes. 100 percent of our clients are investment management companies. We have a five-star reputation for solving complex operational marketing and sales challenges for global asset managers. Our hybrid technology + services model allows us to act as a true business partner to our clients, tailoring our solution to each client's unique needs. Our clients range from some of the world's largest financial services organizations to middle-market and boutique firms, including asset and wealth managers, retirement plan providers, TAMPS, and hedge funds, who are reaching a scaling problem with their current marketing operations. Investment management firms choose Synthesis for the "white glove" client support as well as their expertise in data management and solution implementation.
About Mediafly
Mediafly (Mediafly.com) is the Evolved Selling™ Solution that gives brands the power to better engage with prospective buyers with relevant, real-time insights. Built on a philosophy that salespeople must adapt to survive in the world of empowered buyers, sales teams using Mediafly are more effective in each meeting because they engage their customers with insights that are directly relevant to them. We call this Evolved Selling™. In a recent report, Forrester found that evolved sellers accelerate deal velocity, increase cross-sell conversions, drive repeat business, and foster customer advocacy. Leading companies, like Goldman Sachs, Charles Schwab, NxStage, PepsiCo, Disney, GE Healthcare, MillerCoors, and SC Johnson use Mediafly to evolve their sales execution. Contact Mediafly at alliances@mediafly.com or 312-281-5175.
CONTACTS:       
Emilie Totten, Head of Marketing at Synthesis
312-948-4144​
​etotten@snth.com​
​Isabelle Papoulias, Sales and Marketing Director at Mediafly​
917-825-0439​
​ipapoulias@mediafly.com
Source: Synthesis Technology
Share:
---
Categories: Business Technology, Marketing, Investments, Saas (Software as Service), Banking, Finance, Insurance
Tags: asset management, client presentations, data automation, fact sheets, finserv, fintech, insurance, marketing, marketing content automation, pitchbooks, sales, sales enablement
---
Related Files
Additional Links