SynQor Announces New Additions to Its Mil-COTS 28V Vin DC-DC Product Family (MCOTS-C-28V-[12,28]-HY)
Press Release
•
Apr 11, 2023
Wide input Range 9-40 Vdc, Output 12 or 28 Vdc at 504 W, High Output Capacitance Option, Integrated Digital Load Sharing Capabilities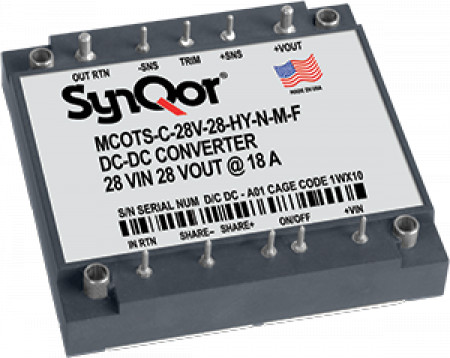 BOXBOROUGH, Mass., April 11, 2023 (Newswire.com) - SynQor, Inc., announces the latest additions to its Mil-COTS 28V (9-40 Vin) DC-DC product line: the MCOTS-C-28V-12-HY and MCOTS-C-28V-28-HY. These new compact, high efficiency, high power, half-brick DC-DC converters are based on SynQor's next-generation, isolated, fixed frequency synchronous rectifier technology. Given the topological restraints of modern power applications, the markedly impressive power density of these half-brick converters offers engineers more headroom and flexibility in designing power systems.
The MIL-STD-704 compliant power converters deliver a regulated output at either 12 or 28 Vdc respectively. This output voltage can be trimmed up to +10% via a trim resistor connected to the positive SENSE line and trimmed down to -50% if connected to the negative SENSE line. The units include a high output capacitive option that allows them to power loads with up to 1225 mF for the 12 Vdc output version and 225 mF for the 28 Vdc version. The units also include a built-in digital load-sharing feature allowing up to 100 units to load share in a system. These products are designed to maintain extremely high efficiencies while facilitating high-power conversion, which, in effect, enables designers to deliver full power to the load at baseplate temperatures as high as 100 °C given input voltages above 12 Vdc on account of the low dissipation characteristics of the modules.
Designed with military standard compliance as a guiding tenet, the MCOTS-C-28V-12-HY and MCOTS-C-28V-28-HY are capable of operating in the harshest of military environments including ground-based, naval, and airborne applications. Additionally, the wide input range and impressive power density of the modules help optimize space in an industry where space is a critical consideration. SynQor's field-proven, highly reliable technology shortens design cycles and helps designers/integrators yield reliable, dependable solutions for the very competitive military markets.
Features
High Power density, 504 W in a half-brick package
Wide input range: 9-40 Vdc
High efficiency: 96%
High output capacitance options: 1225 mF at 12 Vdc or 225 mF at 28 Vdc
Built-in Digital Load Sharing capabilities
Maximum Base plate temperature 100 °C
Specification Compliance
MIL-STD-704 (A-F)
MIL-STD-1275 (B, D)
MIL-STD-461 (C-F)
DEF-STAN-61-5 Part 6/(5 or 6)
DO-160E Section 16
MIL-STD-810G
Download the MCOTS-C-28V-12-HY and MCOTS-C-28V-28-HY datasheets here. For more information on this or your other power needs, please visit us at www.synqor.com or contact us via your local SynQor representative.
Source: SynQor, Inc.