SYNLawn Celebrates 20th Anniversary With a 'Give a Lawn, Get a Lawn' Campaign
Press Release
•
May 23, 2023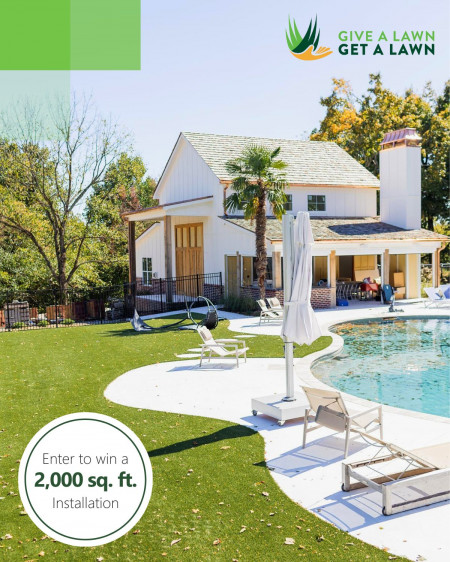 DALTON, Ga., May 23, 2023 (Newswire.com) - SYNLawn®, the largest manufacturer and unrivaled innovator of sustainable artificial grass and synthetic surfacing in North America, is continuing its 20th anniversary celebration with the launch of a new giveaway that will award recipients with more than $25,000 in prizes. From now until Oct. 31, 2023, homeowners have the chance to enter the "Give a Lawn, Get a Lawn" campaign for a chance to win a premium artificial turf installation of up to 2,000 square feet that will be installed by a local SYNLawn installation team. Participants will also vote from a selected list of nonprofits to receive the same grand prize as the winners.
"In honor of our company's milestone anniversary, we're launching this exciting giveaway to upgrade the outdoor spaces of two lucky homeowners and two charities with the highest number of votes," said George Neagle, president of SYNLawn Global. "We greatly value providing people and animals with the cleanest, safest and greenest synthetic grass on the planet. Giving back to the communities we serve is important to us. We hope that everyone will take advantage of this special opportunity to beautify their own residence and donate a turf installation to a well-deserving nonprofit."
The artificial grass installations donated to the two nonprofit organizations with the highest number of votes will be installed by a local SYNLawn distributor. The following organizations are eligible for the turf donations:
SYNLawn will also be awarding smaller prizes each month of the campaign such as a Portable Golf Green 3' x 8' with Fringe, Tee Strike Golf Mat 5'x5′, SYNLawn Landscape 5-ft x 7.5-ft Indoor or Outdoor Artificial Grass, YETI® Cooler, Blackstone Grill, Apple Watch, Visa® and Topgolf Gift Cards, Bettinardi Golf Club Set and a Propane Gas Fire Pit Table. The monthly winners will also choose from the list of participating charities to receive a $500 donation from SYNLawn.
To enter the giveaway, participants must fill out an entry form on the SYNLawn website: www.synlawn.com/news/give-a-lawn-get-a-lawn.
ABOUT SYNLawn®
SYNLawn® is celebrating 20 years of leading the industry as the largest manufacturer and unrivaled innovator of artificial grass and synthetic surfacing in North America. SYNLawn's network of over 120 distributors seamlessly combines environmental stewardship with industry-leading innovations. SYNLawn uses bio-based ingredients and consumer-conscious additives to meet customers' wide range of needs. SYNLawn has installed over 150 million square feet of U.S. soy-backed grass across 300,000 installations in the United States of America and over 20 other countries since 2008. SYNLawn added more soy than ever to its products in 2021, which increased its use of U.S. soy by 10%. For more information, visit www.SYNLawn.com and follow us on Facebook, Instagram, LinkedIn, Pinterest and YouTube.
Source: SYNLawn