SYNLawn Bajío Debuts First Design Center in León
Press Release
•
Apr 12, 2023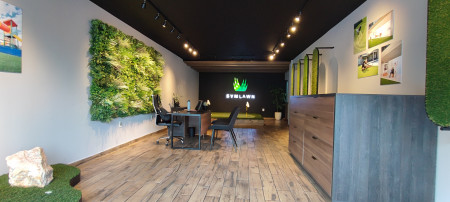 León, Guanajuato, Mexico, April 12, 2023 (Newswire.com) - SYNLawn Bajío, Central Mexico's exclusive distributor of SYNLawn artificial grass and synthetic surfacing, opened its first design center at Blvd. Juan Alonso de Torres #1810, PB-1, Del Moral II, in the northern area of León. The new design center will allow customers to see and feel the quality of SYNLawn's premium turf products firsthand.
"We're very happy to announce our first design center in León and plan to open many more locations across Mexico, including this summer in Mexico City," said Luis Demetrio Perez, Executive Director at SYNLawn Bajío. "Our new space in this increasingly growing area of Bajío will allow our clients to view new and sustainable turf options for commercial and residential projects. We hope this will encourage them to imagine greater possibilities that they haven't been able to achieve with other landscaping products on the market."
The expert team at SYNLawn Bajío brings 10 years of experience in the construction industry. They've installed more than 150,000 square feet of turf for residential and commercial projects in the past two years. Their biggest residential installation was for El Molino Residencial & Golf, one of the most exclusive residential developments in the Bajío region.
"We are proud to welcome SYNLawn Bajío to our growing network of international distributors," said George Neagle, president of SYNLawn Global. "We're excited for our innovative and sustainable products to now be available to residential and commercial customers in Central Mexico. We look forward to supporting the team in their expansion efforts."
Visit the new design center in León to view SYNLawn Bajío's premium turf products and learn about the landscaping services offered by their experts. More information is also available at synlawnbajio.com. For a free quote, call 477-8-30-42-38/39.
ABOUT SYNLawn®
SYNLawn® is the largest manufacturer and unrivaled innovator of artificial grass in North America and offers the Greenest Turf on Earth. As part of the Sport Group Holding® family of companies, SYNLawn delivers the best products available on the market. SYNLawn's product offerings also include Calico Greens™, an upscale line of artificial wall displays. SYNLawn's turnkey network of over 120 distributors seamlessly combines environmental stewardship with industry-leading innovations. Manufactured in Dalton, GA, SYNLawn uses bio-based ingredients, such as soy and sugarcane, and consumer-conscious additives, such as antimicrobials, to meet customers' wide range of needs. With more than 300,000 residential and commercial installations, the company is raising the bar for global synthetic turf standards and transforming the idea of grass. We have a proprietary system with a large percentage of renewable content. From rooftops to road medians and rocket-launch viewing sites, SYNLawn has installed over 150 million square feet of U.S. soy-backed grass across 300,000 installations in the United States of America and over 20 other countries since 2008. SYNLawn added more soy than ever to its products in 2021, which increased its use of U.S. soy by 10%. For more information visit www.SYNLawn.com and follow us on Facebook, Instagram, LinkedIn, Pinterest and YouTube.
# # #
Source: SYNLawn