Synchronize Files Quickly and Securely - ASCOMP Releases Synchredible Version 6
Press Release
•
updated: Jun 4, 2020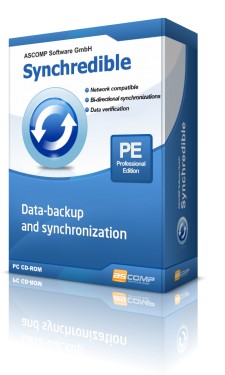 LEONBERG, Germany, June 4, 2020 (Newswire.com) - Many people have computers in more than one location to use for working from the office to working at home. So how to keep all the files in sync from one location to the other? Synchredible can solve this problem by keeping all files easy to access and up to date.
Regardless of whether a user keeps their work current or backs up their data with ease, this tool for Windows relieves of annoyances like the task of copying work over or not having it accessible. It synchronizes data quickly and reliably, saving time. Synchronization jobs can be created to automatically keep folders at the same status.
Users don't need to be an IT professional in order to get started with Synchredible. "Our goal is to provide solutions for complex, recurring tasks that even less experienced users can navigate. That is why we make sure that our applications are intuitive and easy to use!" says Andreas Stroebel, Managing Director of ASCOMP.
The speed of Synchredible in the latest version 6 has been significantly increased through special optimizations. Now, the new version of Synchredible offers up to 50% faster speed per synchronization. In addition, security checks have been added to lower any risk.
Anyone who temporarily stores their documents in the cloud is also well equipped with Synchredible. "The synchronization with Microsoft'sOneDrive, Google Drive and other cloud storage is very easy to set up. This saves you from having to transport and lose important files on the way between home and office."
For private use, Synchredible can be downloaded free of charge at http://www.synchredible.com. The paid version is ad-free and also offers technical support.
Source: ASCOMP
Additional Links