Synchro Software Signs Global Enterprise Agreement With Bechtel
Multiyear Deal Signifies Digital Construction Standards are Taking Shape, Placing Synchro at the Strategic Core of Virtual Project Delivery
Press Release
-
updated: May 4, 2017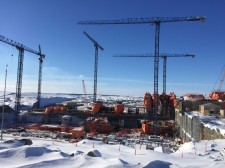 London, England, May 4, 2017 (PressRelease.com) - Synchro Software today announced that it has signed a multiyear Enterprise Agreement with Bechtel, a global leader in engineering, procurement, and construction. For Synchro, this milestone comes after eight years of providing support for Bechtel's continued efforts to further innovate and transform its global engineering and construction operations.
"The Global Enterprise Agreement reaffirms Bechtel's commitment as a leading innovator, focused on the need to transform project delivery operations and to define new practices and levels of performance that can thrive in the age of megaprojects," said Jason Moore, Bechtel Infrastructure's Project Controls Manager of Innovation and Virtual Project Delivery.
Synchro provides an interoperable platform to drive the construction industry's evolution from traditional 2D planning and siloed workflows to a highly cooperative and efficient 4D visual planning and VDC project management process. This visual and data-rich environment engages teams in a transparent process to optimize construction projects in ways that were never before possible. Over the eight years Bechtel has used Synchro, successful results have included improved project execution, enhanced communications and decision support, continuous learning, as well as the ability to reliably manage the increasing complexity in projects on a global basis. "Through Virtual Project Delivery measures, Bechtel is becoming a more competitive enterprise while continuing to implement a strategy to infuse innovation into every aspect of delivering projects, as well as meeting our sustainability goals," said Moore.
Tom Dengenis, CEO of Synchro Software, said, "Bechtel's decision reinforces our efforts to provide construction delivery teams the transformative digital environment they need to operate safe, productive projects at the commanding heights of the global construction industry." Bechtel's investments are strategically aimed to build on their 119-year legacy of creating long-term careers full of purpose and that make positive impacts around the world.
---
Categories: Project and Program Management, Real Estate, Civil Engineering, Construction, Business News
Tags: Construction, Construction Technology, Engineering and Construction Computing, Project and Program Management
---