Symposium: Billions of Wasted Dollars, Homicides and High Recidivism Can Be Rendered a Thing of the Past in U.S. Prisons
Press Release
•
Jan 8, 2016
According to Greg Capazorio, President of Criminon, situations like the one at Lowell are "one reason the work of Criminon volunteers is so important." According to the Criminon website, the organization's goals include, "addressing the causes of criminality and restoring the criminal's self-respect through effective drug detoxification, education and common sense programs."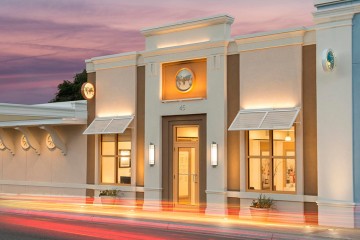 Clearwater, FL, January 8, 2016 (Newswire.com) - "We don't have a minute to waste," Greg Capazorio said at the End-of-the-Year symposium which was held in the new Criminon Florida offices opened by the Church of Scientology in downtown Clearwater last July. In light of the current horrifying revelations regarding Lowell Correctional Institute in Ocala, Florida, including seven deaths in the last year alone1, the non-profit organization Criminon hosted an event on a reform program that has statistics that its President says are proof that it actually permanently rehabilitates inmates.
During the meeting, Capazorio described his experiences at Leeuwkop Maximum Security Prison in South Africa. He cited Leeuwkop as an example of what he described as the power of the Criminon program. According to Capazorio, "The head of Internal Security at the facility later told him that the number of gang fights in the prison went from 1,087 in one year to zero for the next subsequent seven years."
"At Leeuwkop, the first Criminon training session was attended by about 50 inmates. In the second session, we had hundreds," said Capazorio. "The inmates were telling their friends about [the program], who were turning up with their own friends and even family." Capazorio continued, "In four weeks, we had turned all the attendees into people who cared and wanted to improve their lives." Capazorio also said that the program was so successful that "the government ended up taking it on as their own program. They were saying 'this is our program!' The prison special 'trouble unit' was emptied. Prison gang violence went to zero."
"One inmate, the 'shot caller' [often called the 'trustee' in American prisons] for the whole inmate population, was about half-way through the program when he told me was not doing the course anymore because it went against everything he was doing as the 'pimp' and 'pusher' in the prison. I got him to continue in our program by telling him that if he didn't get anything out of it, he could punch me in the face. (I have no idea why I said that last part. It just came out.) Three weeks later, I went back to check on the inmates and he came over to me and exclaimed, 'Everybody needs to do this program!' After he was released, he went on national TV promoting the Criminon program." Capazorio continued, "It worked so well, that even a prison guard came over and asked if he could do the program himself."
Capazorio says, "It's actually easy to help them. We were handling the problem of crime in South Africa by helping criminals and by making them responsible. These inmates were not evil; they had simply given up." Per Capazorio, "the purpose is to restore their self-respect."
Extending his talk closer to home, Capazorio noted that "In the U.S., we spend billions on our Criminal Justice system and we have over an 80% failure rate. Capazorio asks, "How is it that we have 25% of all the prisoners in the world, yet only 5% of the world's population?"
According to the American Friends Service Committee (AFSC), "The profit motive is inherently at odds with the stated purpose of 'corrections' because contractors are financially dependent on the growth of supervised populations, providing a perverse incentive not to rehabilitate."3 If AFSC is right, Criminon may have its work cut out for it. But this does not dissuade Capazorio. "I want to see Criminon to expand like crazy. I want to reform the criminal justice system by changing their methodology. We really want to train those who run the system to implement these programs themselves."
About Criminon
"Criminon (which means 'no crime') is and international non-profit public benefit corporation dedicated to addressing the causes of criminality and restoring the criminal's self-respect through effective drug detoxification, education and a common sense to better living, outlined in L. Ron Hubbard's The Way to Happiness. Criminon operates a network of groups in 35 countries across the globe, delivering Criminon workshops, courses and programs in hails, prisons parole and probation offices, courthouses and re-entry facilities, as well as providing training for correctional officers and program personnel." — http://criminon.org
Locally, in Clearwater, Florida, since the new Criminon offices opened in July 2015, they have had over 4,500 visitors and their 100 volunteers have gotten 633 prison inmates through the full program. They currently have approximately 1,300 students.
Those interested in more information, can visit the new offices of Criminon Florida at 45 N Fort Harrison Ave, Clearwater, FL 33755 or visit criminon.org, email director@criminonfl.org or call 727-467-6963
"Rats, Bugs and 'Natural' Deaths at Nation's Largest Woman's Prison", Dec 20, 2015. www.miamiherald.com/news/special-reports/

florida

-prisons/article49160645.

html



"Welcome to

Criminon

International". www.criminon.org

"How Prison Reform Could Turn the Prison Industry Complex Into the 'Treatment Industrial Complex", November 20, 2015. www.thenation.com/article/how-prison-reform-could-turn-the-prison-industrial-complex-into-the-treatment-industrial-complex/
FOR MORE INFORMATION CONTACT: Roxanne Sierro at 727-467-6963
Related Media