'Sylvan Station' Now Fully Occupied
8th & Roast Opening Completes Commercial Realty Services' Charlotte Avenue Development
Press Release
-
updated: Oct 9, 2018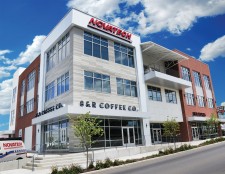 NASHVILLE, Tenn., October 9, 2018 (Newswire.com) - Nashville coffee roaster 8th & Roast became the latest addition to the booming Charlotte Avenue corridor in Nashville, Tennessee. The popular local coffee shop has joined Five Points Pizza as the second street-level tenant operating on the first floor at Sylvan Station - adding another location to their original shop on 8th Avenue South. Managed IT and Print Services provider Novatech Inc. anchors the property with a second-floor showroom and third-floor U.S. headquarters. Sylvan Station is a 26,000-square-foot mixed-used development partnership between Novatech CEO Darren Metz and Will Tyner and Kenneth Powers of Commercial Realty Services.
Metz spoke about centralizing his company's nerve center in Nashville with deliberate community intent. "Making a lasting impact on the revitalization of a district like the Sylvan Park, Sylvan Heights and The Nations in Nashville is a purposeful consideration we've made when choosing to engage in this exciting venture," said Metz. "The building is a tribute to our team's hard work over the years and what better way to compliment our award-winning workplace than with two awesome culinary spots just downstairs?"
Throughout the day, the scent of roasting coffee beans joins the already-tantalizing aromas of baking pizzas. This is a side effect of one of the biggest advantages to 8th & Roast's expansion to West Nashville. "The increased roasting capacity at the new location will allow that area of the business to grow," said owner-operator Ed Reed. "We are able to create custom blends for wholesale clients, supply large quantities to high-traffic partners and send coffee to folks anywhere in the world, all the while remaining a hometown coffee shop."
Charlotte Avenue's 3.7-mile corridor is among several secondary routes drawing specific visioning focus from Nashville's Metro Planning Department and business leaders like Metz, Tyner and Powers have taken note. "The Charlotte Ave corridor continues to be one of the most dynamic in the city and we are very excited to welcome local businesses like 8th & Roast to this area," said Kenneth Powers, founder and president of Commercial Realty Services.
8th & Roast is located at 4104 Charlotte Avenue and joins a two-block span of popular food and drink destinations which includes Five Points Pizza, Farm Burger, Another Broken Egg Cafe, Urban Juicer and Double Dogs. They are open from 6 a.m. to 6 p.m. Monday through Friday and 7 a.m. to 6 p.m. on Saturday and Sunday.
About Commercial Realty Services
Commercial Realty Services, a real estate development firm focused on retail and commercial development, is based in Mount Juliet, Tennessee. Their specialty is the creation of unique and memorable commercial developments that provide tenants with exceptional locations to build and grow their businesses. To learn more about Commercial Realty Services, visit www.crsnashville.com.
Media Contact:
Will Tyner
(615) 339-5559
Wtyner@crsnashville.com
Source: Commercial Realty Services
---
Categories: Business Development, Real Estate
Tags: 8th & Roast, Charlotte Avenue, Commercial Realty Services, Darren Metz, Ed Reed, Five Points Pizza, Nashville, Novatech, Will Tyner
---