Swinging Into Health at the Nashville Church of Scientology
Press Release
•
updated: May 1, 2017
Celebrating World Health Day with a concert at the Nashville Church of Scientology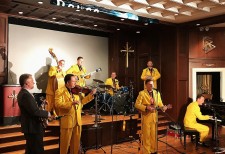 Nashville, Tennessee, May 1, 2017 (Newswire.com) - When a jump-jive swing band rolls through Nashville on World Health Day, a concert on healthy living is in order. So when the Jive Aces stepped on stage at the Nashville Church of Scientology, they named the concert "Swing Into Health."
The concert brought the community together for an evening of music and dance with its message of drug-free living.
The Jive Aces have been performing together for more than 25 years. The six-piece swing band has played at thousands of festivals, theaters and events. They are renowned for their high-energy Jump Jive music (the exciting sound where Swing meets Rock 'n' Roll), their comical stage show, and their popular YouTube music video "Bring Me Sunshine."
The first band to reach the semifinals of Britain's Got Talent, they also performed for Her Majesty the Queen at her Diamond Jubilee celebration. The Jive Aces promote drug-free living at concerts and street events—even from the top of a double-decker bus, where they led the campaign to hand out 1.5 million copies of Truth About Drugs booklets in the UK during the 2012 London Olympics and 2014 Commonwealth Games.
The Church of Scientology and its members support the Foundation for a Drug-Free World. The Foundation educates people about the dangerous effects of drugs so they understand and can make informed choices to live drug-free. The local chapter, Drug-Free Tennessee, hosted the concert.
For more information on the Church of Scientology and the humanitarian programs it supports, visit the Church of Scientology Nashville website.
Read the article on the Scientology Newsroom.
Source: ScientologyNews.org
Related Media