Swim With Mr. Blue Now Offers Swimming Lesson Specials in June at Two Locations
Press Release
•
Jun 21, 2016
Learn to swim with Coral Springs and Plantation's swimming lesson leader, Swim With Mr. Blue! In just 5 days, babies, children, teens and adults can learn how to swim, increase their comfort in the water, and bring their swimming abilities to a higher level than ever imagined.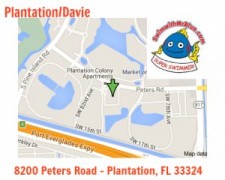 Plantation, FL, June 21, 2016 (Newswire.com) - Summer sun equals kids and water. Kids in every neighborhood will be swimming, running through sprinklers and soaking each other with squirt guns and water balloons. Kids and swimming go hand in hand. They are naturally drawn to the water in swimming pools, lakes, ponds, rivers and the ocean. No matter where the water is they will seek it for a refreshing dip. This is why it is vital to teach kids how to enjoy the water safely. Enrolling them in swimming lessons can ensure that when they find themselves in the water they can float, hold their breath and swim to the water's edge for safe rescue. Swim With Mr. Blue has swim classes for everyone. Read below for more information on the program.
Tiny Tadpoles - Mr Blue's 5 Day Program
18 months & older (one on one 5 day fast track)
Our most popular class! Learn to be "Swim Safe" in Mr Blue's 5 day Fast Track program which guarantees that any child 18 months or older will swim to the wall in just 5 days! Our Blue Swim Safe in 5 Days Level 1 program includes private one-on-one 30 minute session that are taught in 5 consecutive days The Blue Swim Safe program will teach your child important safety skills to help them recover when they fall into a pool or body of water.
Baby Guppies - Mommy & Me Classes
6 to 24 months
Mr. Blue's Baby Guppy classes are designed for both the parent and child to learn water safety skills together in a safe and fun learning environment. In these classes we help guide both parents and children in swimming skills such as blowing bubbles, breath holding, kicking feet, rowing arms, reaching for and choo-chooing along the wall. Every child must have one parent in the water for our classes.
Blue Level Group Swim Classes
Beginner Levels 1-3
These blue level group classes focus on the same swim skills offered in our 5 day program and are taught at the child's own pace one, two, or three times per week on a monthly basis. This level is the foundation of your child's swim safety, your child will learn the important water safety skills needed for survival. These classes help children build strong core muscles, along with developing and maintaining a healthy respect for the water.
Green Level Group Swim Classes
Intermediate Levels 1-3
These intermediate level group classes focus on developing swim skills and are recommended after the completion of the blue level classes. This level is for children who can swim across the pool independently and are able to life their head for a front breath. They will learn the swim skills necessary to perform freestyle & backstroke with the proper body mechanics as well as learning the beginnings of dolphin kick used for the butterfly stroke.
Yellow Level Group Swim Classes
Advanced Levels 1-3
These advanced level group classes focus on training children to develop swim team skills and are recommended after the completion of the green level classes. children will learn the 4 competitive swim strokes as they are taught each stroke first part by part then we put together each stroke as a whole. Children should be able to join a swim team after this level.
Visit www.swimwithmrblue.com , call (954) 956-9955 or email teamblue@swimwithmblue.com for more information on class availability and pricing.
Until the Whole World Swims,
Team Blue
Swim With Mr. Blue
Source: Swim with Mr. Blue
Related Media