SWETI Marketing Reaches Platinum Tier as a Hubspot Solutions Partner
Press Release
•
Apr 20, 2023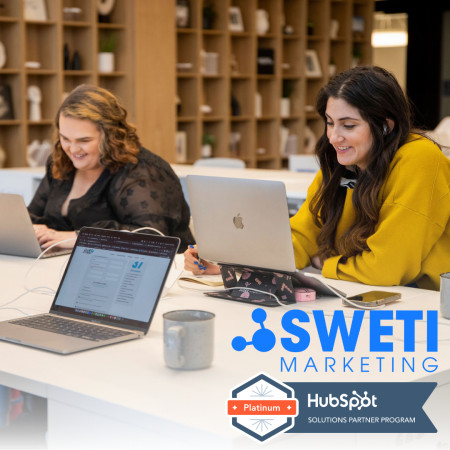 BENTONVILLE, Ark., April 20, 2023 (Newswire.com) - Today, SWETI Marketing announced that it has reached the platinum tier of HubSpot's Solutions Partner Program. HubSpot, a leading CRM platform for scaling companies, works hand-in-hand with partner experts to grow their businesses through inbound software, services, and support.
The Solutions Partner Program is an ecosystem of experts that offer marketing, sales, customer service, web design, CRM, and IT services. It's a global community that believes putting customers first is the key to growth and enables its members to offer a wide breadth of more sophisticated solutions across the entire customer experience.
"To achieve status as a platinum-tier solutions partner, SWETI has worked really hard to bring modernized high-value sales and marketing strategies to the health club industry. More than ever, health clubs need sales accountability that feeds into a robust member journey. Our team of CRM experts can make this a functional reality for gym brands of all sizes," says CEO Dan Maxwell
Over the past year, SWETI Marketing has grown its business by incorporating inbound strategies to attract, engage, and delight major health club brands. The platinum achievement exemplifies SWETI's commitment to delivering exceptional marketing services and solutions. SWETI Marketing's notable milestones and achievements include:
110% of overall company growth in 2022.
86 Hubspot Certifications across 33 employees.
Opened new corporate offices with a "culture-centric" experience in downtown Bentonville, AR.
"SWETI Marketing specializes in unlocking the very best of HubSpot for the health club industry," said Brian Garvey, VP, Solutions Partner Program at HubSpot. "Congratulations to the entire SWETI team for reaching the platinum tier. I'm so grateful for your partnership and for everything you do to help others grow better every day. I can't wait to see what you achieve throughout the rest of 2023 and beyond."
About SWETI Marketing:
SWETI Marketing was founded to "inspire people to fitness." In the last decade, SWETI has developed a process for delivering highly effective and affordable marketing solutions for hundreds of health club brands. Based in Bentonville, Arkansas, SWETI delivers fitness industry-specific services such as advertising, social media marketing, SEM, SEO, CRM management, custom chatbots, and analytics support. As developers, SWETI also creates gym-specific e-commerce software, websites, group fitness calendars, occupancy meters, SMS solutions, partner API integration tools, and innovative kiosk experiences.
Source: SWETI Marketing