SwarmSales, Inc. Introduces Industry's First Sales Talent Marketplace for Startups and Enterprises
Groundbreaking sales-as-a-service marketplace connects businesses to the right accounts faster
Press Release
-
updated: Jan 25, 2017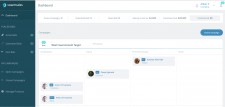 SAN FRANCISCO, January 25, 2017 (Newswire.com) - SwarmSales, Inc., a startup funded by UP2398 venture capital fund, today unveiled the industry's first digital marketplace designed to connect professional, talented salespeople and resellers with startups and enterprises. SwarmSales helps startups scale sales rapidly and enables enterprises to break into new markets or territories with the right talent fast.
Identifying and retaining sales talent is a major challenge for companies with the average annual turnover rate of 26 percent at the cost of nearly $100,000 per turnover.1 With SwarmSales, businesses can connect on demand with sellers who have existing relationships with potential buyers while saving money and time.
"Businesses today want something more than the traditional internal sales model and CRM," said Ankur Srivastava, CEO and co-founder, SwarmSales. "The SwarmSales marketplace transforms the way companies and salespeople interact and gives businesses access to sellers who can help connect them to the right accounts faster than ever before."
Early adopters have already experienced success on the SwarmSales beta platform with more than 150 sellers and 40 companies engaged to date. The platform is growing and continues to add sellers and companies.
"Linking up with SwarmSales was a no-brainer," said Jay Chapel, CEO and co-founder, ParkMyCloud. "We're an early stage company with a pretty simple value proposition, and I wanted to know if salespeople could understand it. By working with SwarmSales, I was able to get on-demand sales teams to understand our value proposition and qualify leads much faster."
Getting Started with SwarmSales is Easy
If you are a business, sales professional, or reseller interested in joining the SwarmSales marketplace, simply visit https://swarmsales.com and create a profile. SwarmSales will then match you with the best company and/or sales professional based on your unique needs and background. The sales process is completed through milestones that are paid for when complete.
Benefits for Startups and Enterprises

Benefits for Sellers and Resellers

· No recruiting, hiring, or long-term commitments

· Use only sellers with experience in your market

· No payments without results

· Pick only the products/services you want to sell

· Get paid for every milestone

· Uncapped commissions on close

About SwarmSales, Inc.
SwarmSales, Inc. is a sales-as-a-service marketplace that connects businesses with sales experts to close deals with targeted accounts faster. Swarm Sales, Inc. was founded by Ankur Srivastava, Alex Limeres, and Samir Rajguru in 2016 and is funded by UP2398, a venture capital fund created by eBay veterans and founder, Pierre Omidyar. For more information visit https://swarmsales.com.
Editorial Contact:​
Cherie Britt
Britt Communications for SwarmSales, Inc.
cherie@brittcomms.com
408.766.2620
1) According to DePaul University research, 2015-2016 http://8c9afd081c3d4def1403-dc063f7c0c33274a6b24fd15453f7b6d.r25.cf2.rackcdn.com/7311dc5bbda54273946a82ff434c14df.pdf
Source: SwarmSales
---
Categories: Business Technology, Small Business, Customer Relationship Management (CRM)
Tags: account management, channel sales, enterprise sales, resellers, sales, sales-as-a-service, startups
---