Suzette Belgarde Looks at Hippotherapy and Parkinson's Disease
Press Release
•
updated: Aug 6, 2018
The debilitating motor symptoms associated with Parkinson's disease are known to drastically decrease the quality of life in sufferers.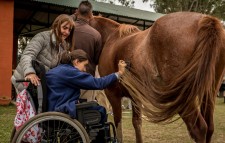 FARIBAULT, Minn., August 6, 2018 (Newswire.com) - Suzette Belgarde refers to a recent study in which nine volunteers with Parkinson's disease participated in a ten-week program of hippotherapy. "A further nine individuals suffering from Parkinson's also formed a control group, instead of attending a ten-week series of lessons about the disease," says Belgarde.
"Hippotherapy, however, has been shown to be an effective form of therapy in improving function in daily activities," reveals Suzette Belgarde, an equestrian expert, and advocate of hippotherapy from Faribault, Minnesota.
Results were measured through a series of brief 30-second tests surrounding strength and endurance, gait velocity, and a review of health-related quality of life.
Hippotherapy, also known as equine-assisted therapy, involves treatment centered around horses or taking place in an equine environment. "Activities are generally tailored to promote physical, occupational, and emotional growth in individuals suffering from a wide range of conditions," Belgarde explains.
Of the Parkinson's disease study, Belgarde reveals that when on horseback, participants were receiving exercise similar in intensity to that experienced when walking unassisted. "In addition to the physical benefits, neurological conditions are known to be improved by stimulation caused by the natural movement of horses," she adds.
The study also found that the rhythmic and three-dimensional oscillations triggered by riding elicited an important neuromuscular response from riders' postural reflex mechanisms. "Movements made by a horse being ridden were sensed by the participants to be similar to that experienced in the pelvic area as part of normal human gait," Belgarde adds, "helping to improve balance, and strengthening the trunk muscles."
According to the study, the sensory stimulation of horse riding is one of the most significant single beneficial factors of hippotherapy. "It's for this reason," says Belgarde, "that hippotherapy has been demonstrated as an effective method of treatment for persons suffering from a large number of brain disorders. It has also been shown to improve functional mobility in the elderly, functional strength in stroke sufferers, and both functional mobility and strength in people with spinal cord injuries."
At the end of the ten-week program, those in the group undertaking hippotherapy showed a "significant increase" in gait speed, as well as other overall improvements in well-being.
"The study concluded," says Belgarde, wrapping up, "that the benefits of hippotherapy, to sensory stimulation and anticipatory postural adjustments, mean that the process can be considered beneficial in increasing functional capacity and improving health-related quality of life in individuals with Parkinson's disease."
Media Contact:
Web Presence, LLC
Eric Blankenship
786-332-6554
Source: Web Presence LLC