Suzette Belgarde Explains the Benefits of Equine-Guided Coaching
Press Release
•
updated: Jun 28, 2018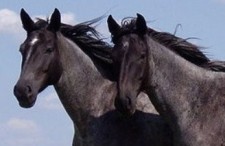 FARIBAULT, Minn., June 28, 2018 (Newswire.com) - Assistance and therapy animals come in all shapes and sizes, with cats and dogs and even elephants and dolphins all having been utilized for therapeutic purposes. For Suzette Bernadine Belgarde, however, her interests lie predominantly in horses, with the Faribault, Minnesota, resident having witnessed firsthand the benefits horses can have on a variety of conditions from anxiety and autism to genetic syndromes and traumatic brain injuries.
Equine-guided coaching, often shortened simply to equine therapy, involves treatment centered around horses or taking place in an equine environment. "Activities are generally tailored to promote physical, occupational and emotional growth in individuals suffering from a wide range of complaints," Belgarde explains.
In some cases, an individual undergoing equine-guided coaching may not even touch, let alone ride a horse. "Generally speaking, an equine therapist will begin by setting goals, such as leading the horse to a particular area or putting on its halter," Belgarde further explains.
In completing and then discussing the process, whether riding has taken place or not, those undergoing therapy are utilizing problem-solving techniques, improving language skills and refining their ability to follow instructions, listen and ask questions, entirely aside from any physical, emotional or other benefits.
Belgarde goes on to add that equine-guided coaching has been found to be successful in treating individuals with cerebral palsy, attention deficit hyperactivity disorder, developmental delay and dementia, plus a wide array of mental health-related concerns.
By definition, equine-guided coaching can refer to any one or more of several therapeutic activities involving horses. In cases of cerebral palsy, for example, as well as multiple sclerosis, stroke and other motor or sensory issues, horses are employed for physical, occupational and speech therapy. Known as hippotherapy, the discipline was first established in the U.S. in the 1960s.
"Despite hippotherapy only formally coming into practice in the U.S. in the last 50 or so years, it's believed that horses have been used for physical therapy for over 2,000 years," Belgarde points out. "Equine therapy was also seen and officially documented in Scandinavia in the 1940s being used in the treatment of those suffering post-polio syndrome."
Indeed, as Belgarde reveals, therapeutic riding is documented in ancient Greek literature dating back to 600 BC, while modern documentation from Europe begins in 1946 in what was the precursor to standards of hippotherapy used today.
Alongside hippotherapy and other equine therapies used to treat severe injuries and genetic conditions, for example, horses have also been utilized to assist in cases of post-traumatic stress disorder, behavioral and communication issues, substance abuse and eating disorders. "It's an efficient and effective form of treatment, with horse-based therapy often yielding positive results in as few as two to three sessions," Belgarde suggests.
Whether in a physical, mental or emotional capacity or context, equine-guided coaching has also been witnessed to improve issues pertaining to self-esteem, self-awareness, self-control, interpersonal relationships, empowerment, relaxation and general happiness, as well as focus and concentration.
"It's a wonderful process," adds Belgarde, wrapping up, "and I would urge anyone interested in equine-guided coaching to pursue the options available to them."
Media Contact:
Web Presence LLC
Eric Blankenship
786-332-6554

Source: Web Presence LLC