Susie B's Crafty Cabin Designs Releases Their Lake Life Signature Collection
Our Lake Life Signature Collection is a set of hand-painted wood signs made from quality materials and inspired designs that uniquely capture the relaxing experience of spending time at the lake.
Press Release
-
updated: May 14, 2018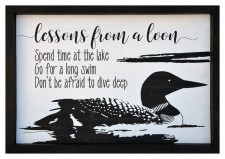 GRAND FORKS, N.D., May 14, 2018 (Newswire.com) - Designer, Susie Bommersbach from Susie B's Crafty Cabin Designs is releasing the brand-new Lake Life Signature Collection, and each product will be individually made by the designer herself. The Lake Life Signature Collection will be released on Friday, May 25, 2018.
Susie B's Crafty Cabin Designs is known for helping their customers decorate their homes with beautiful handmade products that convey a "cozy cabin" style through inspired design.
Thus, for the first time, Susie B's Crafty Cabin Designs has created an entire product line of the designer's favorite and most popular wood signs inspired by the "Lake Life" many hold dear to their hearts. The new Lake Life Signature Collection is scheduled to go live on Friday, May 25, 2018.
The collection will be exclusively sold on the website susiebscraftycabindesigns.com where the limited products will be for sale through Labor Day. It is anticipated the limited stock will be sold out by the end of summer.
The hand-painted wood signs are designed to showcase the relaxed lifestyle of being at the lake with inspired design elements that make our customers feel as though they were capturing a memory and preserving it for a lifetime.
Several products come in shades of blue or the color of a sunset to capture the feeling of being at the lake, while to capitalize on today's trend of a farmhouse style to showcase the simplicity of wood tones, while others are done in classic black and white or natural earth tones.
Our wood signs are made from quality materials and designs thoughtfully created by Susie B herself which means our customers will have a sign unique to their décor and the sentiment they want to covey in their home.
This collection also includes signs made from Susie B's own photographs with meaningful quotes to offer her customer the most unique lake inspired wood signs on the market. Our Loon and Sunset designs are taken directly from photographs the designer took at her lake home on Leech Lake, in northern Minnesota. Therefore, the Lake Life Signature Collection contains original products no other company could possibly offer. This originality and unique approach ensure that our customers are purchasing beautiful works of art they are proud to display in their home or give as gifts to loved ones.
Each individual wood sign has its own name. A few examples are:
•   Lessons from a Loon – Starting At $52
•   Serenity Can Be Found (Sunset)– Starting At $52
•   What Happens at the Lake – Starting At $39
•   Go Jump in the Lake – Starting at $39
•   Farmhouse style signs – Starting at $58.50
The Lake Life Signature Collection ranges in price from $39 to $100 and offers a variety of color and size choices with each design.
Susie is excited to welcome her fans to her the new handmade product line collection they've been requesting.
As an extra bonus, her local customers will be treated to an exclusive "Sneak Peek" of the entire collection before it goes live on her website. Interested parties can view the collection at the Sail into Summer Craft Fair and Vendor show on Thursday, May 17 from 5 p.m. - 9 p.m. in the upper level of the Canad Inn in Grand Forks, ND. Customers may pre-order their favorites in person at the show for special "Show Only" discounted prices.
For more information about the Lake Life Signature Collection or for an interview with Susie B, please write to admin@susiebscraftycabindesings.com. Interviews and media high-res photos available upon request.
About Susie B's Crafty Cabin Designs
Susie Bommersbach started designing wood signs and home after her family purchased a small summer home on Leech Lake (near Walker, MN). Susie had a very small budget for decorating their lake home, but she had big dreams of making it a place for her family to create a lifetime of memories. After diving into research on how to create the wood signs and other items on her must-have list, she started creating everything to decorate her lake home by hand. Soon her family and friends began asking her to create items for them and started sharing her products on social media and Susie B's Crafty Cabin Designs was born in 2015.
Susie's products started gaining notoriety and she began selling in region craft fairs and vendor shows.   Her products quickly sell out and she is one of the most sought-after handmade businesses for craft fairs due to her ability to get her VIP customers to come to every show she participates in.
Her wood signs and other home décor items are often purchased as keepsake gifts. They are inspired by her love of faith, family, nature and a good sense of humor.
Susie recently launched her own website. She did this as her VIP customers began referring her to their friends and her base quickly grew from being local to reaching all over the country. She is a member of Pride of Dakota®, a premier group of North Dakota Based handmade business and will be featured in their upcoming showcases and other events.
Website: susiebscraftycabindesigns.com
Source: Susie B's Crafty Cabin Designs
---
Categories: Artists
Tags: Cabin Decor, Hand Painted Wood Signs, Handmade Business, Lake House Decor, Lake Life Signature Collection, Lake Signs, Pride of Dakota, Wood Signs
---
Related Files
Additional Links