Survey of 8,709 Consumers in 29 Countries Finds That 76% Prefer Purchasing Products With Information in Their Own Language
Press Release
•
updated: Jul 9, 2020
Third global study by independent market research firm CSA Research provides reliable data to make the ROI case for delivering localized content throughout the online customer journey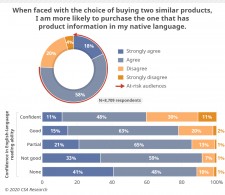 BOSTON, July 9, 2020 (Newswire.com) - ​Based on a survey of 8,709 global consumers in 29 countries in Europe, Asia, North America, and South America, CSA Research found that 76% of online shoppers prefer to buy products with information in their native language. In addition, 40% will never buy from websites in other languages. These findings, and hundreds of other e-commerce buying preferences, are detailed in "Can't Read, Won't Buy – B2C," a new report by independent market research firm CSA Research.
As a continuation of the firm's long-running "Can't Read, Won't Buy" series, CSA Research again worked with survey specialist Kantar. To gather the verified and comprehensive sample, Kantar vetted 31,933 consumers around the globe, eliminating thousands via its patented Honesty Detector software, filters, and trap questions to yield the verified 8,709 responses. The results, which were analyzed by CSA Research, provide reliable data to make the ROI case for delivering localized content throughout the customer journey.
The 29-nation survey, which included Brazil, China, Egypt, France, Germany, Indonesia, Japan, Spain, Russia, and Turkey, was conducted in the official language of each country, plus Spanish in the U.S. Factors including nationality, English-language proficiency, global brand recognition, and the ability to conduct transactions in local currencies were included in the study.
"There is a longstanding assumption that enough people feel comfortable using English online, especially when buying high-tech or expensive products," comments Dr. Donald A. DePalma, CSA Research's Chief Research Officer. "Our 2020 findings show that if a company chooses to not localize the buying experience, they risk losing 40% or more of the total addressable market—the consumers that prefer selecting and buying products at local-language sites. While they may want the products or experiences on the English-language site, most would rather think, act, and buy in their own language."
Additional findings include:
· 67% tolerate mixed languages on a website
· 73% want product reviews in their language, if nothing else
· 76% prefer products with information in their own language
· 66% use online machine translation (MT)
· 40% will not buy from websites in other languages
There is more to cross-border purchasing behaviors than language. Privacy, payment methods, delivery, and customs are major components of a global strategy and can impact B2C e-commerce experience and success.
Recently released research, "ROI of Customer Engagement," factors the 2020 "Can't Read, Won't Buy – B2C" data into the customer journey, preliminary data from the upcoming B2B report, and the impact of language on total addressable market.
About CSA Research
CSA Research, formerly Common Sense Advisory, is an independent market research company helping companies profitably grow their global businesses and gain access to new markets and new customers. www.csa-research.com | @CSA_Research
Source: CSA Research