Surgical Sutures Market Worth $5.2 Billion by 2024- Exclusive Report by Meticulous Research®
Future Outlook: Surgical sutures market to witness steady growth during the forecast period (2018-2024)
Press Release
-
updated: Mar 14, 2019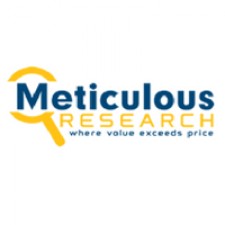 LONDON, March 14, 2019 (Newswire.com) - According to the latest publication from Meticulous Research®, the global surgical sutures market will grow at a CAGR of 5.2% from 2018 to 2024 to reach $5.2 billion by 2024, majorly driven by "rising number of surgical procedures and burn cases, aging population & thereby increasing prevalence of chronic diseases, technological advancements, and favorable reimbursement for various surgical procedures especially in the developed regions".
The surgical sutures market is segmented based on product type, application, end user, and geography. Based on product type, suture threads held the largest share, mainly attributed to the greater preference for various suture threads for wound closure, rising adoption of multifilament sutures, and low cost of sutures as compared to automated suturing devices.
Surgical sutures are currently majorly used for cardiovascular surgeries. The largest share and fastest growth of this application is mainly attributed to the growing number of cardiovascular surgeries and rising Coronary Artery Bypass Graft (CABG) cases across the globe.
On the basis of end user, hospitals are the leading adopters of surgical sutures. The largest share of hospitals is attributed to the increasing number of complex and minimally invasive surgeries performed in hospitals, rising geriatric population requiring hospital admission, favorable reimbursement policies for hospital treatments, and increasing number of new hospitals, especially in emerging countries.
Geographically, Asia-Pacific region possesses lucrative growth potential for the surgical sutures market during the forecast period. This is mainly attributed to the rising geriatric population, rapid rise in the prevalence of chronic diseases and surgeries, growing disposable income levels and penetration of health insurance, growing medical tourism industry, lower regulatory hurdles, and increasing investments in the healthcare sector by governments.
The key players operating in this market are Braun Melsungen AG, Boston Scientific Corporation, Medtronic plc, Ethicon Inc. (Johnson & Johnson), Teleflex Incorporated, Smith & Nephew, CONMED Corporation, Internacional Farmacéutica S.A. De C.V., DemeTech Corporation, Peters Surgical, Sutures India, EndoEvolution, LLC, Surgical Specialties Corporation, and Mellon Medical B.V. among others.
Surgical Suture Market by Product (Suture Thread (Synthetic, Nylon, Silk, Prolene, Steel), Automatic Suture Device), Application (CVD, General, Orthopedic, Gynec, Ophthalmic, Plastic, Cosmetics), End User (Hospitals, ASC, Clinic) - Global Forecast to 2024
Browse in-depth Report on https://www.meticulousresearch.com/product/surgical-sutures-market/246
Scope of the Report:
Market by Product
Suture Threads Market, by Type

Absorbable Sutures

Synthetic Sutures

Polyglactin 910 Sutures
Poliglecaprone 25 Sutures
Polydioxanone Sutures
Polyglycolic Acid Sutures
Other Synthetic Sutures

Natural Sutures

Non-Absorbable Sutures

Prolene Sutures
Nylon Sutures
Stainless Steel Sutures
Other Non-Absorbable Sutures
Suture Threads Market, by Material Type

Multifilament Sutures
Automated Suturing Devices 

Disposable Automated Suturing Devices
Reusable Automated Suturing Devices
 Market by Application
Cardiovascular Surgeries 
General Surgeries 
Gynecological Surgeries 
Orthopedic Surgeries 
Ophthalmic Surgeries 
Cosmetic & Plastic Surgeries 
Other Applications
 Market by End User:
Hospitals
Ambulatory Surgical Centers
Clinics & Physician Offices
 Market by Geography:
North America
Europe

Germany
France
U.K.
Italy
Spain
Rest of Europe

Asia-Pacific

China
India
Japan
Rest of Asia-Pacific

Latin America
Middle East & Africa
Get sample report here: https://www.meticulousresearch.com/request-sample-report/cp_id=4947
Contact Info:
Khushal Bombe
Email: khushal@meticulousresearch.com
Direct Lines: +1-646-781-8004 (North America)
+44-203-868-8738 (Europe)
+91 744-7780008 (Asia-Pacific)
Source: Meticulous Market Research Pvt. Ltd.
Share:
---
Categories: Healthcare Technology
Tags: business news, healthcare, market, medical devices
---