Surf Telecom Selects ng-voice to Deploy Its Cloud-Native IMS and HSS Solution on AWS and to Enable VoLTE/VoNR Services for Surf Telecom Customers
Press Release
•
Sep 27, 2023
ng-voice announced that Surf Telecom in Brazil has selected ng-voice's cloud-native IP Multimedia Subsystem (IMS) and Home Subscriber Server (HSS) on Amazon Web Services (AWS).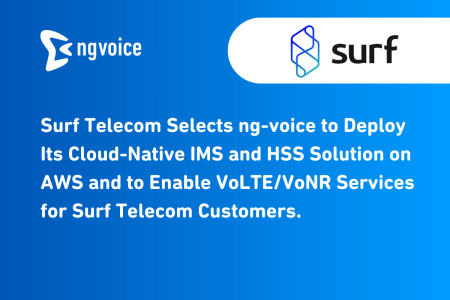 HAMBURG, Germany, September 27, 2023 (Newswire.com) - Surf Telecom will deploy ng-voice's cloud-native IMS and HSS on AWS to fully benefit from cloud-native technology. The deployment will enable Surf Telecom to continuously update and upgrade systems and quickly introduce new capabilities. This will help Surf Telecom deliver on its vision to reshape the connectivity of millions of Brazilian customers.
According to Davi Fraga, CTO at Surf: "We chose to work with ng-voice and AWS because their cloud-first approach fits perfectly with our aim to massively transform the lives of millions of underserved Brazilians, offering fairer and more transparent products and, providing our customers with secure, reliable, cost-efficient and low footprint communication services. We need a future-proof solution that can scale on demand for millions of customers in Brazil and that enhances our voice solution. Together with ng-voice and AWS, we see a perfect fit to enhance voice quality and deliver lower voice production costs to our customers."
ng-voice developed the industry's first truly cloud-native IMS, the critical component to deploy Voice over Long-Term Evolution (VoLTE) and Voice over New Radio (VoNR), and HSS. The solution is fully cloud-and-infrastructure-agnostic, with highly automated deployment and operation processes, flexibility, and reliability to scale (up and down), and with a minimal resource footprint.
David Bachmann, CEO of ng-voice, said: "Our IMS and HSS on AWS is an ideal solution for Surf Telecom - it is highly automated, resource-efficient, and cost-effective, exactly what voice use cases are about in cloud-native telecom software. We see high dynamics in this market, and are thrilled to work with AWS, who is unlocking the full potential of cloud-native voice solutions in the telecom industry."
Sameer Vuyyuru, Head of Worldwide Telecommunications Business Development at AWS said: "One of the biggest challenges we hear from telecom operators and AWS Partners is how to support more customers in a cost-effective, and affordable way. By taking advantage of ng-voice's cloud-native IMS and HSS on AWS, Surf Telecom now has a flexible, scalable solution to improve voice and connectivity services for millions of customers across Brazil. We're pleased to work with ng-voice to help Surf Telecom meet this ambitious goal."
About ng-voice: ng-voice GmbH is committed to building the next generation of 100% software-based mobile networks, combining DevOps with telecommunications expertise. ng-voice's fully containerized and cloud-native IMS core is scalable, flexible, and easy to deploy and manage, offering communication service providers and enterprises of any size innovative voice services on 4G and 5G networks.
About Surf Telecom: Surf Telecom S.A. is a leading MVNO in Brazil and offering white-label technology platform to organizations in the most diverse segments, allowing them to become Telecom Providers and offering their customers mobile phone plans and connectivity services using their own brand.
Source: ng-voice GmbH
Tags