Suralink Announces Release of Secure File Sharing With Microsoft Outlook Add-In
Press Release
•
Mar 23, 2023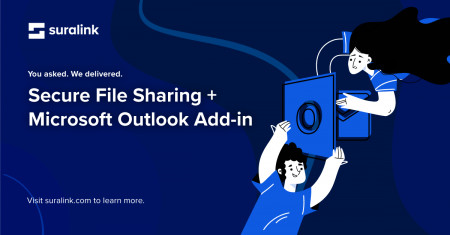 SALT LAKE CITY, March 23, 2023 (Newswire.com) - Suralink, the leader in request list management and approval workflow software for accountants, today announced that it is releasing a new Microsoft Outlook Add-in for its Secure File Sharing product. The Outlook Add-in further simplifies the process of requesting and sharing one-off files by allowing clients to work directly from their Microsoft email client.
During the course of a business tax, audit, or consulting engagement, CPAs transfer hundreds of documents. Applications like Suralink's Request List Management help facilitate this process. However, there are many scenarios where documents need to be exchanged securely outside of the core engagement or in one-off scenarios. Most existing file sharing applications require a separate portal where users must log in to exchange those documents, wasting time and resources.
With the Microsoft Add-in for Secure File Sharing, tax preparers and other CPA teams can securely exchange large documents of any file type directly from their Microsoft Outlook client (web or desktop), without disrupting the flow of their daily work.
Miguel Perez, Vice President of Product at Suralink, says: "We remain dedicated to our clients and listening to the feedback they provide. Adding the Microsoft Outlook Add-in for Secure File Sharing is a direct response to that feedback. Between our flagship product Request List Management and now Secure File Sharing with the Microsoft Outlook Add-in, we are confident firms will be able to work more efficiently while providing their clients with a great experience."
The Microsoft Outlook Add-in for Secure File Sharing includes the following features:
Sending and requesting files securely while composing an email
Secure sharing via a personalized link system
Link regeneration
Bulk upload and download
No file type or size restrictions
Enterprise-grade security with SOC2 compliance

Suralink's Secure File Sharing with the Microsoft Outlook Add-in is now available in all markets. For more information, contact sales@suralink.com.
About Suralink
Suralink is the leader in request list management and approval workflow, helping businesses simplify the document workflow process while improving the client experience. The company's cloud-based application integrates a dynamic request list and assignment workflow solution with a secure file hosting platform to serve as a single location for client interaction.
Suralink works with more than 850 tax, advisory, and audit accounting clients, as well as legal services, security consulting, financial services, and banking companies worldwide. Its technology, combined with its industry expertise, helps ensure simplicity, transparency, and accountability throughout the document workflow process.
# # #
Source: Suralink, Inc.