SupplierGATEWAY Awarded a Contract With E&I Cooperative Purchasing to Expand Supplier Diversity in Education
Press Release
•
Jul 13, 2023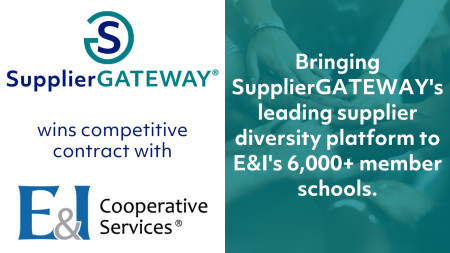 IRVINE, Calif., July 13, 2023 (Newswire.com) - SupplierGATEWAY, a leading supplier data management company and a certified minority business enterprise, today announced they have been awarded a contract with E&I Cooperative Purchasing (E&I) to offer SupplierGATEWAY's market-leading supplier diversity technology platform to E&I's over 6,000 members. This competitively solicited contract will give E&I member institutions, with over $2.8B in spending through E&I contracts, the tools they need to meet and exceed their supplier diversity goals.
SupplierGATEWAY offers E&I's member K-12 schools, colleges, universities, and organizations a supplier diversity platform with simple and affordable pricing, a database with millions of suppliers, unlimited seat licenses, and unlimited data enrichment.
"We are thrilled to partner with E&I to bring our supplier diversity technology solutions to more organizations within the education community," said Ade Solaru, CEO of SupplierGATEWAY. "Together, we will make it easier for E&I members to build impactful supplier diversity programs, create opportunities for diverse businesses, and drive economic growth in their communities."
E&I members that take advantage of this partnership will be able to automate supplier diversity data enrichment, identify qualified diverse suppliers that match member purchasing needs, track and report diverse spend, measure economic impact in their impact area, and strengthen relationships with local and diverse suppliers.
"E&I is committed to supporting our members' supplier diversity goals through contracts with organizations like SupplierGATEWAY," said Titus Martin, Executive Director of Supplier Diversity at E&I. "SupplierGATEWAY's solutions will allow our members to strengthen their programs, build a more diverse and inclusive supply chain, and drive greater economic impact in their communities. We are excited to offer their innovative platform to our members."
Learn more about SupplierGATEWAY's offering for E&I Members.
About SupplierGATEWAY:
SupplierGATEWAY provides supplier diversity, onboarding, and offboarding software solutions to help organizations develop and optimize their supplier relationships. Their supplier diversity solutions identify qualified diverse suppliers, track and report diverse spend, and economic impact, and help strengthen diverse supplier information with Enhanced Digital Certification®. Learn more at SupplierGATEWAY.com.

About E&I Cooperative Purchasing:
E&I Cooperative Services (E&I) is the only member-owned, nonprofit procurement cooperative exclusively focused on serving education. E&I delivers unsurpassed value and an exceptional experience to its members through a broad portfolio of competitively solicited contracts with industry-leading suppliers and innovative sourcing solutions. The Cooperative empowers its members to make informed, analytics-driven decisions to capture more spend and optimize their education dollars. For more information, please visit www.eandi.org.
Source: SupplierGATEWAY