SuperWoman SuperLawyer Maryam Parman Donates $20,000 to the Orange County Chapter of Trauma Intervention Programs
Maryam Parman made the donation at the nonprofit's annual Heroes with Heart Gala held on March 28.
Press Release
-
updated: Apr 3, 2019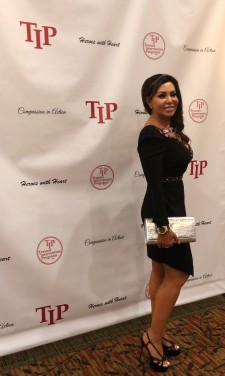 IRVINE, Calif., April 3, 2019 (Newswire.com) - Maryam Parman, a personal injury attorney and owner of Avrek Law Firm, has donated $20,000 in support of the Orange County Chapter of Trauma Intervention Programs at their annual Heroes with Heart Gala. The event, held on March 28, was attended by more than 400 elected officials, police, sheriffs, fire chiefs, hospital executives, business leaders, and volunteers.
Trauma Intervention Programs, which is operated by specially trained volunteers, helps support first responders by working with those who have been emotionally impacted by traumatic incidents and their families in the first hours after a tragedy. The organization is part of a larger national network. In Orange Country, Trauma Intervention Programs has 99 volunteers and is serving 20 jurisdictions, including 10 hospitals and 10 public safety agencies.
Parman's foundation MPFIC, Maryam Parman Foundation for Injured Children, donated to the organization as a Platinum Sponsor. "We are pleased to be able to support such a worthwhile nonprofit organization that is doing so much for our community," says Parman. "I know first-hand the important role this organization and their volunteers play in helping our personal injury clients. Their support at these difficult times in invaluable."
Parman launched her career in 1998, and has focused her practice solely on assisting injured people to get their lives back together. Parman and her law firm, Avrek Law, have secured more than $750 million in recovery and helped more than 10,000 clients. For more information about Parman and the types of cases she handles, visit SuperWomanSuperLawyer.com.
About Attorney Maryam Parman
SuperWoman SuperLawyer Maryam Parman is a personal injury attorney who has more than 20 years of personal injury legal experience in helping individuals recover compensation for their injuries caused by others. Her law firm Avrek Law has 20 offices located throughout California. For more information visit SuperWomanSuperLawyer.com or AvrekLaw.com.
About for Maryam Parman Foundation for Injured Children
The Maryam Parman Foundation for Injured Children is a California nonprofit public benefit corporation providing various forms of aid to injured children and their families. Each child's needs are assessed before an individualized funding and treatment plan is formed. The Founder, Maryam Parman, through her work representing plaintiffs in personal injury cases, sees children who have experienced a catastrophic injury often times not get the compensation they need in order to cover their medical expenses or necessary future medical care. She decided to do something about this problem by founding The Maryam Parman Foundation for Injured Children, a foundation that will solely focus on funding healthcare services and providing mobility accommodations to children in need. The families of these injured children need to make large purchases and lifestyle adjustments to cope with these injuries, which can put a serious financial strain on families. Our Founder decided to take action and help these families by founding MPFIC in hopes to change lives, one child at a time. For more information, visit MPFIC.org.
About Trauma Intervention Program (TIP) of Orange Country
TIP of Orange County is a chapter of the Trauma Intervention Programs, Inc., a national nonprofit organization founded in 1985. TIP has 15 affiliates serving more than 250 cities across the nation. In each affiliate, citizen volunteers respond to traumatic incidents at the request of police, fire and hospital personnel to support those who are emotionally traumatized. For more information, visit TipOrangeCountry.org.
Source: Maryam Parman
Share:
---
Categories: Non Profit
Tags: attorney, heroes with heart gala, Law firm, maryam parman, Personal injury, personal injury law firm, superwoman superlawyer, tip, trauma intervention program
---