Sugarloaf Craft Festivals Is America's Handmade Market. Find All Things Special, Fun and Unique, Three Days Only
Press Release
•
updated: Oct 10, 2017
Shop from 250+ Talented Artisans at the Montgomery County Fairgrounds Oct. 20-22, 2017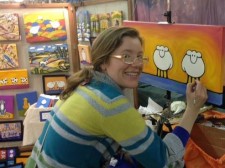 GAITHERSBURG, Md., October 10, 2017 (Newswire.com) - A weekend of artistic appreciation and entertainment is in store when Sugarloaf Craft Festivals returns to Montgomery County Fairgrounds Oct. 20-22. The interactive, all weekend event boasts hundreds of returning and new artists, each carefully selected to sell their handmade, artisanal artwork to the public. Collectors and enthusiasts of all ages will have the opportunity to meet hundreds of professional artists, participate in live demonstrations, and make purchases across an exceptional array of handcrafted artwork and crafts. One of the most highly regarded arts festivals in the country, Sugarloaf Craft Festivals promotes artists in every category including jewelry, clothing, home decor items, pottery, wood designs, mixed media fine art, photography, and more. Sugarloaf's fall shows also boast a wide variety of seasonal items and gifts in preparation for the holiday season.
This immersive event is one for the whole family to enjoy! Many of the artists will provide their own creative and educational demonstrations including artisan broom makers, wood carvers, sculptors, and metal weavers. Children of all ages will be inspired to engage, ask questions, and explore the limits of their creativity. Sugarloaf partners with a variety of American entrepreneurs to support a wide-range of attractions and activities that are bound to create a memorable weekend. The on-site "Festival of Food" offers locally produced treats including delicious chocolates, jams, dips, wine, and concessions that are available to sample and purchase. You can even stumble upon handcrafted chew bones to bring home to pet Fido!
Sugarloaf Craft Festivals will be hosted at the Montgomery County Fairgrounds, 501 Perry Parkway in Gaithersburg, Maryland on:
Friday, Oct. 20: 10 a.m. - 6 p.m.
Saturday, Oct. 21: 10 a.m. - 6 p.m.
Sunday, Oct. 22: 10 a.m. - 5 p.m.
The event will be held in rain or shine!
Adult admission is $8 in advance or $10 at the door, and tickets are good for all three days.
Children 12 and under are admitted free, parking is free.
Visit www.sugarloafcrafts.com for more information and to buy your tickets.
###
Sugarloaf Mountain Works has been presenting Sugarloaf Craft Festivals since 1976. With 11 annual award-winning events, Sugarloaf Craft Festivals offer a special and curated experience featuring top-quality artists and craftspeople. Sugarloaf Craft Festivals offer the public a chance to shop an incredible array of unique creations, plus enjoy live art demonstrations, sample specialty foods, and get the kids' creativity flowing with interactive activities. Sugarloaf Craft Festivals are held in major eastern metropolitan areas like Washington, D.C., Philadelphia, New Jersey and Baltimore. For more information about Sugarloaf Craft Festivals, including an upcoming event schedule, visit www.sugarloafcrafts.com or email sugarloafinfo@sugarloaffest.com.
Source: Sugarloaf Craft Festivals
Additional Links