Sugaring NYC Franchise Expands Into Austin, Texas, Market Signing the Area Development Agreement for Eight Sugaring NYC Units
Press Release
•
Jan 21, 2022
Sugaring NYC organic waxing franchise continues to expand in North America with over 60 new stores added into franchising system in 2021. Sugaring NYC corporate team expects to add over 100 franchising stores in 2022, bringing the company to a total of 200 franchising units. New franchisees like the Sugaring NYC Franchise offering because of low initial investment, fast capital return and overall beauty market growth trend.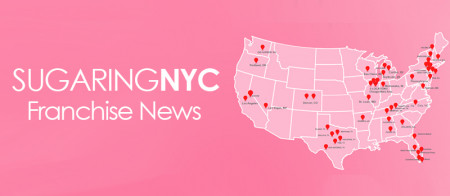 AUSTIN, Texas, January 21, 2022 (Newswire.com) - Sugaring NYC Organic Hair Removal is the fastest-growing hair removal franchise in the United States. When compared with other waxing hair removal businesses, Sugaring NYC has one big advantage for customers - it uses only natural ingredients. The preparation is 100% natural, containing only sugar, water and lemon, and no chemicals, fragrances or coloring. It is hypoallergenic, causing no skin irritation. Regular waxing products are made of resins and often toxic chemicals as well. These ingredients are often irritating, if not toxic, to the skin. Sugaring NYC continues to grow its North American operations in more than 30 states accepting new franchise applications for more than 400 available cities throughout the United States.
Sugaring NYC Franchising Program.
Established in 2015, it has corporate locations in New York, Chicago, Boston and South Florida. After the initial release of the franchising program, over 120 territories were awarded an average yearly growth rate of 45% each year. Many of the existing Sugaring NYC franchisees, after opening their first unit, decided to open more locations, and some signed the area development agreement - a multi-unit contract to open multiple locations in the next few years.
Hair Removal Market Size.
The U.S. Hair Removal Wax Market is expected to reach US$2.39 Bn by 2027 from US$1.47 Bn. in 2020 at a CAGR of 7.2% from 2020 to 2027. With more and more customers shifting toward organic, gluten-free, fitness, beauty-oriented lifestyles, the sugaring waxing industry as one of the alternatives to classic hard wax methods is expected to grow by 13-17% yearly as it becomes available to a larger number of end customers. Since 2020, Sugaring NYC has become a leading sugaring hair removal company by a number of locations, gross revenue per unit and per system overall thanks to the combined effort of multiple corporate departments and strategic planning.
Franchising Opportunity.
Sugaring NYC is accepting new franchise applications via their franchising website - Sugaring NYC Franchising. Franchises are available in over 400 cities nationwide. The cost to open one unit on average is about $100,000-$140,000 including a one-time franchise fee of $29,900. This investment will cover the buildout, furniture and materials for the first three months of operation. This level of investment is the lowest in the industry, making Sugaring NYC the best beauty franchise opportunity.
Sugaring NYC corporate portal.
Sugaring NYC franchising website.
Source: Sugaring NYC Franchise
Related Media