Study Shows Urgent Need for Drug Education About Synthetic Pot
Press Release
•
updated: Apr 5, 2017
With a new study published by the American Academy of Pediatrics finding students who use synthetic marijuana have a "significantly greater likelihood" of sexual risk and violent behavior, the Foundation for a Drug-Free World urges educators, law enforcement and community groups to reach youth with the truth about these dangerous drugs.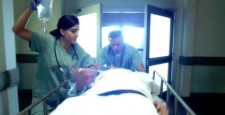 Los Angeles, California, April 5, 2017 (Newswire.com) - A study published in March 2017 by the American Academy of Pediatrics found students who use synthetic cannabinoids (a group of active compounds found in marijuana) "tend to engage in more risky behaviors" and concludes that these substances are "an important public health issue among high school students."
The study concludes: "it is important that health professionals and school-based substance prevention programs include strategies that reduce the initiation of marijuana and synthetic cannabinoid use, particularly among students younger than 13 years of age." Its findings echo those of the 2016 study by the Centers for Disease Control and Prevention (CDC), "Acute Poisonings from Synthetic Cannabinoids," that stresses the importance of drug education to prevent "life-threatening consequences" from the use of synthetic drugs.
The CDC study states "acute intoxications [intoxications so severe they may cause trauma, delirium, coma, and convulsions] by synthetic cannabinoids appear to be increasing in the United States," and goes on to point out that these drugs are two to 100 times more potent than the active ingredient in cannabis.
With the emergence and alarming increase in use of synthetic drugs, the Foundation for a Drug-Free World extended its Truth About Drugs curriculum to include materials that specifically address these substances: a booklet titled The Truth About Synthetic Drugs and a public service announcement that graphically shows the dangers of these drugs. It also added a new section on synthetics to its award-winning documentary The Truth About Drugs—Real People, Real Stories where former addicts reveal the cold hard facts about these substances through their personal stories of taking the drugs.
"These drugs turned me into a monster," states one former user. "It's the most dangerous thing I ever have done in my life."
The Foundation also provides an Educator's Guide containing lesson plans and all the materials a teacher, school resource officer or mentor would need to deliver the drug education program.
The Foundation for a Drug-Free World, a secular nonprofit corporation, was formed in 2006 to serve as the primary distributor of The Truth About Drugs educational materials and to develop new materials to meet the challenge of continually changing drug trends. It coordinates an international network of volunteers brought together by their common purpose to create a drug-free world. There have been almost half a million visits to the Foundation for a Drug-Free World website and more than 1.5 million pages viewed every week since the start of 2017.
The Church of Scientology and its members support the Foundation for a Drug-Free World and make its materials available free of charge to educators, law enforcement officers, community and religious groups, parents and mentors.
Read the article on the Scientology Newsroom.
Source: Foundation for a Drug-Free World
Related Media