Study Shows Fly Fishing Helps Veterans Overcome PTSD
Press Release
•
Sep 8, 2022
Fly fishing is being used more frequently to help veterans overcome PTSD. It provides a form of escapism and relaxation that can be difficult to find elsewhere in this increasingly connected world.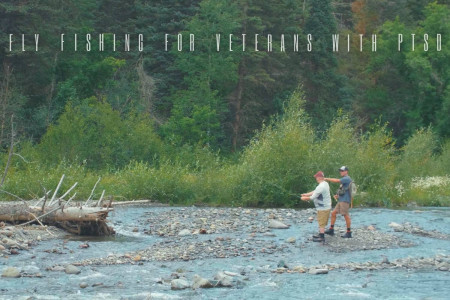 DRIPPING SPRINGS, Texas, September 8, 2022 (Newswire.com) - Fly Fisher Pro has completed a study in conjunction with the Therapeutic Recreation Journal to investigate how fly fishing helps veterans overcome PTSD.
PTSD, according to the American Psychological Association [APA], 2017, is a reaction to a traumatic event that is shown through a combination of mental health symptoms that last for at least one month and prevent functioning in different areas.
If veterans and anyone else suffering from PTSD do not receive support and treatment, they will likely have a very low quality of life due to psychological distress and declining functionality in everyday life.
The main approaches to treating PTSD, as recommended by the Department of Defense, are pharmacological therapy and various types of psychotherapy, including individual, trauma, and non-trauma-focused approaches.
While these therapies are effective, they are not as effective as they need to be, as between 30% and 50% of the veterans who go through them do not show long-term improvements and are still diagnosed with PTSD after having done them.
How effective has fly fishing been for veterans with PTSD?
The study showed that fly fishing can be extremely effective in helping veterans with PTSD in several different ways.
The qualitative paper "The Transformative Nature of Fly-Fishing for Veterans and Military Personnel with Posttraumatic Stress Disorder" by Patti J. Craig, Dustin M. Alger, Jessie L. Bennett, and Tamar P. Martin describes a study in which nine veterans who were, and maybe still are, participants in the Project Healing Waters Fly-Fishing Program were split into two focus groups and asked about how fly fishing impacted their lives.
All nine participants reported that fly fishing had helped them (not only in their overall health), but in their recoveries from PTSD in several ways. Comments like Brent's are eye-opening:
"The stress immediately melts when you're casting. It's taught me a great deal. If I get uptight, I'll start tying flies at home, just like it's medication. It's my vice, my medication. I don't care if I even catch any fish. I take the maximum dose of medications you can take. But nothing calms me down more than tying something. I get these reactions where I start throwing up, I get dizzy, I just want to smash things, or just want to lay down and sleep the rest of my life. But instead of popping a pill, I'll tie a copper john." - Brent, a 68-year-old Vietnam veteran
To learn the complete statistics and more feedback from veterans check out the full post at Fly Fisher Pro.
Source: Fly Fisher Pro
Tags