Study: 549,000 More Americans Were Monitored in 2020
Press Release
•
updated: Feb 4, 2021
Apps that allow the installer to monitor the activity on somebody else's phone were downloaded at least 549,000 times last year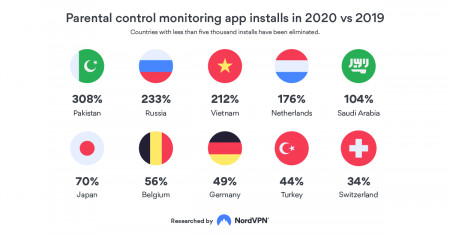 LONDON, February 4, 2021 (Newswire.com) - A new study by the cybersecurity company NordVPN shows that, last year, applications that are used to monitor device activity were installed on 549,000 devices across the U.S. This number is 1% lower compared to the year before.
"Applications like KidsGuard, mSpy, Spy Phone, and Highster are primarily built for parents to monitor activity on their kids' phones. It allows parents to keep an eye on the communications their minors are having online. Sadly, installed without the owner's consent, such tools can turn into very powerful spyware to read messages, record screen activity, track GPS locations, and use cameras to see what an individual is doing," says Daniel Markuson, digital privacy expert at NordVPN.
Globally, there were 5% more monitoring apps installed, affecting over 1,132,262 people across the world. According to NordVPN's research, downloads were growing the most in Pakistan (308%), Russia (233%), and Vietnam (212%).
37% more Americans were suspicious about being monitored
People who are concerned about the possibility of being watched can easily check if they have monitoring apps installed on their devices by using stalkerware detectors. The research shows that 37% more Americans (a total of 456,982) felt like they were monitored and installed detectors to get proof of it.
The rest of the world reacted in quite a similar way by acquiring 16% more spyware detection tools in 2020, compared to the year before.
The magnitude of the stalking problem
The U.S.-based National Network to End Domestic Violence found that, in 2019, 54% of domestic abusers downloaded consumer-grade stalkerware or parental control monitors onto their partners' devices.
According to Daniel Markuson, there are several ways to safeguard your device from an abusive partner. The simplest one is to secure your device against unauthorized physical access, which will potentially stop the perpetrator from gaining access to your device to install stalkerware in the first place.
"Once your device is password-, pattern- or biomimetics-protected, use a VPN at all times. This will prevent the abuser from eavesdropping on your communications through your network," he adds.
A very important warning to anyone who is in an abusive relationship: if you find parental controls or stalkerware placed on your device without your consent, you should not remove it because this will almost certainly alert your abuser. Seek professional help.
ABOUT NORDVPN
NordVPN is the world's most advanced VPN service provider used by over 14 million internet users worldwide. NordVPN provides double VPN encryption, malware blocking, and Onion Over VPN. The product is very user-friendly, offers one of the best prices on the market, has over 5,000 servers in 60 countries worldwide, and is P2P-friendly. One of the key features of NordVPN is the zero-log policy. For more information: nordvpn.com.
Source: NordVPN
Tags
Related Files
Additional Links