Studio TKB Presents Sewing Patterns 'For Grown Ass Women'
Press Release
•
Jun 21, 2016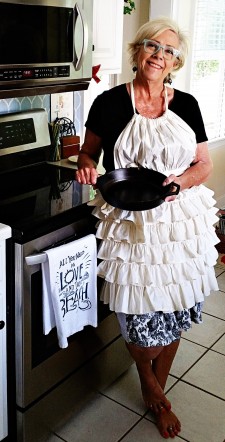 Saint Simons Island, Georgia, June 21, 2016 (Newswire.com) - ​Tina Kim, Sewist and Owner of Studio TKB is launching the inaugural Galaxy Whisper Collection of Yoga & Activewear sewing patterns
1 JULY 2016 | ST. SIMONS ISLAND, GEORGIA
Created for women of all ages and sizes, Studio TKB's Galaxy Whisper Collection includes hand drafted sewing patterns extensively tested on different body types with a purpose to encourage all sewists to gain confidence in their craft and their bodies.
Patterns with Purpose
Studio TKB creates hand-drafted sewing patterns designed for women with attitude in all age groups and body types. Each pattern is extensively tested and electronically delivered as a .pdf to sewists worldwide. Studio TKB patterns are original and easy to follow for most skill levels so that every sewist can create their own Easy-to-Wear "aha" pieces for their handmade wardrobe.
Body types come in countless varieties, and it's important to start teaching, from a young age, that being unique is a gift. Studio TKB isn't just about creating sewing patterns. It's about creating a movement of empowered women. 'Grown Ass Women' to be quite frank. No matter our age, when we're able to create something that makes us feel beautiful, it can be life changing.
"Long ago and far, far away, Yoga & Activewear didn't work! It was Booty Peekin', Cleavage Bustin' non-shapewear inspired! It needed a HERO! It needed a SEWIST!"
Tina Kim | Owner & Sewist
Kim started learning to create her own clothes from a young age at her mother's sewing table. Now, her mission is to help others learn the power that comes from making what you wear, and creating the style that suits each individual. Now, Kim unveils Studio TKB to enormous enthusiasm from her growing following for the launch of the versatile Galaxy Whisper Collection of Yoga & Activewear that's easy to wear, easy to sew, shows off what you want, and covers up what you don't.
"Sewing is EVERYTHING! My Mama taught me to sew when I was six, my first garment was a drawstring skirt made out of a ticking stripe --and from that point on I was hooked. There have been times in my life that if I didn't sew, I'd be naked! Now I'm passionate about sewists all over the world being able to find patterns that suit their lifestyle and their bodies as they learn how to improve their sewing and their self-confidence."
Tina Kim | Owner & Sewist
Check out Studio TKB at www.studiotkb.com and subscribe at http://eepurl.com/bYo7yb to receive discounts, new product announcements, and insights into what 'Grown Ass Women' wear and want to sew. All subscribers will also receive the Free & Fabulous Obi Won Yogi Belt pattern. Only available at Studio TKB.
Notes to editors
Studio TKB owner, Tina Kim, can be reached via email at hello@studiotkb.com. For wholesale information look for her Printed Patterns Collection – Coming Soon.
Studio TKB - designs sewing patterns that celebrate Grown Ass Women
Source: Studio TKB