Student Loan Debt, Starting Families and the Wage Gap: How Women Differ Statistically, Ameritech Financial Reports
Press Release
-
updated: Jul 5, 2018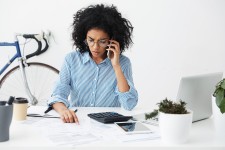 ROHNERT PARK, Calif., July 5, 2018 (Newswire.com) - Women with student loan debt are less likely to start families than those without. According to a study, 22 percent of women with student debt said their loans forced them to put off having children. Part of the problem is that women graduate with more debt and make less money than men. The gender pay gap is especially wide in Utah, where female workers make 57 cents for every dollar a male colleague makes. Gender discrimination may also play a hand in women's decision to not start a family. For example, 44 percent of female employees reported gender discrimination related to pay. Since women face higher student loan debt than men, they should consider income-driven repayment plans (IDRs) which may help reduce monthly payments. Ameritech Financial is a document preparation company that assists student loan borrowers to complete applications for federal repayment programs offered by the Department of Education.
"The current situation is not fair to women. With higher debt and less pay than men, they may feel at a disadvantage," noted Tom Knickerbocker, executive vice president of Ameritech Financial. "We treat every client equally and want to help all borrowers with federal student debt find better repayment plans. Student debt affects many college grads, and we want to change the conversation. Instead of them feeling stuck, we want to empower them by explaining many of their choices."
Part of the problem lies in gender roles. Women have traditionally taken on the full-time job as stay-at-home mom and homemaker. In today's age, women are also expected to care for their aging parents. The Pew Research Center reports in a study that 40 percent of working women had to reduce their hours or take a day off to care for a child or family member. On the other hand, only 24 percent of fathers had to take time off for the same reasons. Even worse, more than a quarter of women surveyed said they had to quit their jobs for family obligations. Women take off 11 weeks after birth or adoption, while men only take one week. Women may have a harder time paying off their student loans if they have to reduce their work schedule to accommodate their families. They could possibly reduce their monthly student loan payments if they changed their repayment plan to an income-driven repayment plan (IDR).
We treat every client equally and want to help all borrowers with federal student debt find better repayment plans.
With a lower income, women may benefit greatly from federal IDRs. Borrowers who struggle to make their minimum payments may find some financial relief in federal IDRs. Such plans base payments on income and family size and could end in forgiveness after 20 to 25 years of enrollment. A new repayment plan through the Department of Education could give women more economic advantages than they currently possess. For example, having extra funds each month from potentially lower monthly payments could allow them to save for other goals, like a down payment on a house.
"We don't pretend to have answers to society's problems, like the gender wage gap," added Knickerbocker. "I wish there was a comprehensive solution. I try to focus on improving Ameritech Financial, such as finding better ways to assist borrowers with navigating what many see as complexities of the federal student loan maze."
About Ameritech Financial
Ameritech Financial is a private company located in Rohnert Park, California. Ameritech Financial has already helped thousands of consumers with financial analysis and student loan document preparation to apply for federal student loan repayment programs offered through the Department of Education.
Each Ameritech Financial telephone representative has received the Certified Student Loan Professional certification through the International Association of Professional Debt Arbitrators (IAPDA).
Ameritech Financial prides itself on its exceptional customer service.
Contact
To learn more about Ameritech Financial, please contact:
Ameritech Financial
5789 State Farm Drive #265
​Rohnert Park, CA 94928
1-800-792-8621
​media@ameritechfinancial.com
Source: Ameritech Financial
---
Categories: Financing and Student Loans, Financial News
Tags: federal student loans, financial goals, income-driven repayment
---