Student Loan Debt Stalls, Stops Entrepreneurs, According to Ameritech Financial
Press Release
-
updated: Nov 1, 2018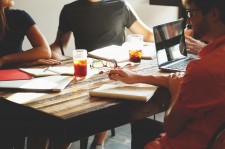 ROHNERT PARK, Calif., November 1, 2018 (Newswire.com) - Not only are those with student loan debt less likely to start a business, but their businesses grow slower, according to a CNBC article. This has implications down the road since more than 44 million Americans owe more than $1.5 trillion in student debt. Based on current trends, associate professor of Finance at Northeastern University, Karthik Krishnan, predicts "gradual deterioration" in "economic mobility and startup activity." Another expert, Mark Kantrowitz of SavingForCollege, suggests borrowers starting businesses apply for federal programs, such as income-driven repayment plans, to lower payments and increase resources available for the business. Ameritech Financial, a document preparation company, assists clients in applying for and maintaining enrollment in income-driven repayment plans (IDRs), perhaps helping clients to lower their monthly payment, allowing them to start a business, if they desire, or simply get their lives back on track.
"We see the many impacts that student loans have on borrowers every day, so it's not surprising that it slows down business growth," said Tom Knickerbocker, Executive Vice President of Ameritech Financial. "Whether you are opening your own business or just trying to pay your monthly bills, if you are overwhelmed by student loan debt, we can help you determine if you may qualify for an IDR, and if you do, find the right one for you. We guide you through the process, with federal programs possibly lowering your payment based on income and family size."
Krishnan's study revealed that a person with student loan debt is 11 percent less likely to start a business than someone who graduated without debt. And once they start, these businesses grow slower. One reason for this may be access to cash. Many businesses require a loan to get up and running. Banks are wary of lending money to those with student loan debt. For example, after being denied a bank loan for $50,000, one entrepreneur scraped together $10,000 from his family. He scaled back his operation, resulting in a smaller store in a quieter part of town. He closed the doors a year later. This failed businessman is part of a national trend unfolding this decade that appears to be headed into the next.   
With student loan debt supplanting credit cards and auto loans as the second largest debt held by Americans, the number of businesses with less than five employees decreased by 14 percent between 2000 and 2010. "A large percentage of employment in the United States comes from small businesses," said Brent Ambrose of Penn State College of Business. "If student debt is causing a reduction in the ability to create these new businesses, that could be a problem."
Noting the drag that student loans place on business founders, Kantrowitz suggests, in addition to requesting funds from crowdfunding platforms and relatives, finding out if they qualify for IDRs. Since monthly payments are based on what borrowers can afford instead of what they owe, IDRs might be a great option for entrepreneurs attempting to get their business off the ground.
"Student loan debt affects so many aspects of life," said Knickerbocker. "Americans are, by nature, entrepreneurial and it's discouraging to see these trends. We can be your advocate with your loan servicer, and help you navigate the sometimes overly complex process of securing an IDR. We can even help you stay up to date, making sure you are recertified, which might even end in forgiveness in 20 or 25 years."
About Ameritech Financial
Ameritech Financial is a private company located in Rohnert Park, California. Ameritech Financial has already helped thousands of consumers with financial analysis and student loan document preparation to apply for federal student loan repayment programs offered through the Department of Education.
Each Ameritech Financial telephone representative has received the Certified Student Loan Professional certification through the International Association of Professional Debt Arbitrators (IAPDA).
Ameritech Financial prides itself on its exceptional Customer Service.
Contact
To learn more about Ameritech Financial, please contact:
Ameritech Financial
5789 State Farm Drive #265
Rohnert Park, CA 94928
1-800-792-8621
media@ameritechfinancial.com
Source: Ameritech Financial
Share:
---
Categories: Financing and Student Loans, Financial News
Tags: entrepreneurs, federal student loans, income-driven repayment, small businesses
---