Strength in Gaming Video Game Podcast Recently Featured Celebrity Clare Grant
Celebrity Clare Grant revealed how much of a video game nerd she is, her favorite current game and more.
Press Release
-
updated: Mar 5, 2019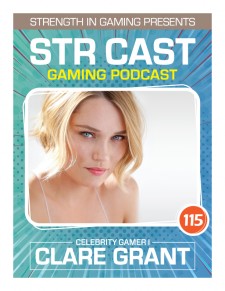 LOS ANGELES, March 5, 2019 (Newswire.com) - Strength in Gaming recently hosted celebrity Clare Grant on their video game podcast. The podcast, which is hosted by Samson Lancaster, Salvador Madrigal, and Cat McGuire, launched a new celebrity edition and had Grant as their first celebrity guest. Grant made her feature debut opposite Joaquin Phoenix in a small but pivotal role in the Golden Globe-winning film, "Walk the Line," she has gone on to both act and produce.
"We are excited to announce that the Strength in Gaming crew got down and nerdy with celebrity guest Clare Grant," says Samson Lancaster. "We had so much fun getting to know Clare and her gaming habits. Our listeners will be surprised by just how much of a video game nerd Clare is, and insight into her gaming favorites and habits."
The Strength in Gaming team uncovered a wealth of fun factoids about Grant's gaming. They asked her questions that ranged from the first game she remembered playing to her current favorite games and gaming system. They also asked about her Cosplay and any cosplay she's working on currently in addition to learning more about Grant's upcoming projects. Clare Grant next stars as one of the two female leads in "Changeland," the feature directorial debut of Seth Green.
While Grant always wanted to be an actress, she also grew up fascinated by science, math, and technology. Growing up near Clear Lake, Texas and NASA's Johnson Space Center, Grant has sought out shuttle launches and visited science centers all over the country. In 2016, Grant utilized her appreciation of science as one of the producers on a science news show, "Blame it on Science," which was created in partnership with Lionsgate for their Comic-Con HQ digital network.
As a producer, Grant has also created geek genre projects including the viral sensation, "Team Unicorn: G33K & G4M3R Girls," which stirred controversy over its sexy portrayal of geek girls. She co-created and produced a pilot series for Adult Swim.
The Strength in Gaming podcast is available on iTunes, Google Play Music, Stitcher, and more. To listen to the podcast with Grant, visit the website for more information.
About Strength in Gaming
Strength in Gaming are real gamers, nerds who have gamed their entire lives. They are dedicated to hilarious and honest opinions on video games. For more information, visit Strngaming.com.
Source: Strength in Gaming
Share:
---
Categories: Video Games, Comedy
Tags: celebrity, clare grant, comedy, gaming, podcast, video games
---