Streamline and Teal Communications Partner to Deliver Intelligent Technology Solution for the Transportation Industry
Press Release
•
updated: Aug 24, 2020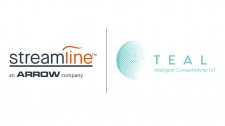 KAMLOOPS, British Columbia & BELLEVUE, Wash., April 2, 2020 (Newswire.com) - Streamline Transportation Technologies Inc. (Streamline) and Teal Communications have partnered together to deliver an innovative and intelligent technology solution for the transportation industry. Teal Communications' Intelligent eSIM Platform will enable Streamline's products to reliably stay connected across the United States and Canada for a wide range of use cases in the transportation industry. The joint solution will enable connectivity across multiple carriers in North America, ensuring Streamline's innovative products always stay connected to the most optimal cellular network, regardless of location. Through this partnership, Streamline will be able to support the latest wireless technologies and offer customers access to affordable global coverage, all with one eSIM.
"At Streamline, we are committed to optimizing safety, security, and convenience for drivers with innovative connected services. Our best-in-class IoT Transportation platform and Teal enable us to deliver the best possible user and driving experience to our customers." – Dan De Palma, Vice President, Streamline Transportation Technologies
"Teal's intelligent eSIM platform sets the standard for global and secure cellular connectivity for the Internet of Things (IoT). Teal's solution pairs perfectly with Streamline's innovative transportation technology and will ensure reliable and affordable connectivity for its customers across multiple networks in the United States, Canada, and beyond through one future-proof platform." – Michael Johnston, Chief Business Officer, Teal Communications
About Streamline
Streamline Transportation Technologies Inc., an Arrow Company, is a leading provider of fleet management solutions for the transportation industry. Streamline combines telematics with advanced wireless and vehicle automation technologies to make vehicles safer, cleaner, and more productive. Streamline offers three major core products; Navistream™, an ELD and telematics platform, NaviLink®, a vehicle gateway and active control system, and Degama, a Transportation Management Solution (TMS). The integration of the three platforms allows Streamline to offer a complete package of fleet solutions, customizable to any fleet size. For more information, visit stti.com.
About Teal Communications
Teal Communications, Inc. is a telecommunications company headquartered in Bellevue, Washington. Teal's intelligent solution enables any IoT device to securely, reliably and affordably connect to over 2,000+ cellular networks in 196 countries. Teal's standard or embedded eSIM is compatible with any device and connectivity-as-a-service is managed through one powerful eSIM platform. For more information, visit tealcom.io.
Media Contacts
Jordan Kaiser, Business Development
Streamline Transportation Technologies Inc.
jkaiser@stti.com
250-571-4016​
Michael Johnston, Chief Business Officer
Teal Communications, Inc.
michael@tealcom.io
206-697-2020
Source: Teal Communications, Inc.