Stratus Digital Systems Named Most Promising Cybersecurity Company
Press Release
•
updated: Oct 26, 2017
Award Presented at Prestigious PwC Security Day In Luxembourg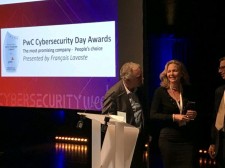 EUGENE, Ore., October 26, 2017 (Newswire.com) - ​​​​​​When cyberhackers are able to penetrate the world's most heavily protected data centers, it becomes clear that cybersecurity is now more important than ever. Unfortunately, cybercriminals seem unstoppable, breaching and stealing highly sensitive data, almost at will.
To address this significant challenge, the country of Luxembourg launched its Cybersecurity Competence Center ("C3") on October 16. A number of events were held over the course of the week, including the PwC Cybersecurity Day, held on October 19. This event brought together 10 of the world's most cutting-edge cybersecurity companies to present their technologies to a powerful audience of angel investors, venture capital companies (VCs), CEOs, Chief Information Security Officers (CISO) from the Benelux area and beyond, as well as cybersecurity experts - from Belgium, the Netherlands, Luxembourg, Germany, France, Israel and the U.S. Stratus. Digital Systems Inc., a young company based in Eugene, Oregon USA, was voted the Most Promising Company by the audience in attendance.
We change the systems used so that businesses have an on-demand relationship with the internet.

Greta Geankoplis, CEO
In the current environment, cybercriminals need two critical elements to be successful in their activities: Time (to focus on prized data), and a static Target ( the networked servers which they exploit to access valuable data). Stratus' evolutionary technology denies the cybercriminal both Time and Target by creating on-demand servers with randomly assigned, unpredictable IP addresses to which only the authorized, transaction participants have access. When the user terminates the transaction, the software is erased and the server is destroyed. Stratus' solution therefore reduces Internet exposure, cuts the cybercriminal's residence and destroys the attackers' progress before data can be stolen. In essence, this technology denies cybercriminals the Target by making it unfindable and the Time they need to infiltrate a system by terminating the transaction server.
The impact of Stratus' paradigm-shifting technology cannot be overstated. It puts control squarely back in the hands of organizations with sensitive data and dramatically reduces immense potential losses (a recent breach of a major company's data is estimated to cost them $300-$325 million, and caused them to lose $3 billion in total Company Value, or Market Capitalization). Stratus' technology is also infinitely scalable and seamlessly integrated within existing systems.
About Stratus Digital Systems Inc.
Stratus is a cybersecurity software solutions company based in Eugene, Oregon, and a graduate of RAIN Eugene Accelerator Program, field testing their technology for safeguarding healthcare and financial records and transactions.
For more information or to schedule an interview, contact Greta Geankoplis, CEO of Stratus Digital Systems, at 407.797.2699 or via email at g2@stratusdigitalsystems.com.
Source: Stratus Digital Systems, Inc.
Related Media
Tags
Additional Links