StrateVic Finance Group AB Launches Remittance Services Within BANKT for iGaming Industry
Press Release
-
updated: Oct 7, 2019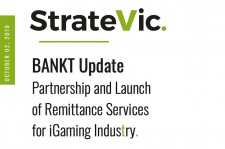 STOCKHOLM, October 7, 2019 (Newswire.com) - StrateVic Finance Group AB (ISIN SE 0006027546 – Frankfurt Stock Exchange: SVAB) announces launch of remittance services for the iGaming industry.
Following the implementation of the company's cross-asset banking strategy, StrateVic Finance Group AB is pleased to announce that it is launching remittance services as part of its BANKT product. For this new business opportunity, StrateVic has initiated a strategic partnership with MSIPay Limited in Malta with the aim of launching its services within the iGaming Industry.
The first client will be River iGaming (www.riverigaming.com), one of the fastest-growing businesses in the iGaming industry. This partnership will be supported by the company's E-Money and crypto licenses, together with MSIPay's newly developed and future-oriented payment solution aggregator and KYC solutions.
The execution of the company's strategy for "BANKT" (www.bankt.co) will provide the iGaming industry with remittance services, processing and corporate structures. Together with MSIPay's payment aggregator, StrateVic will be able to provide a total financial structure for the industry, supporting the business operations and end customer deliverables within the entire sector.
The global gambling market size reached a value of nearly $449.3 billion in 2018, having grown at a compound annual growth rate (CAGR) of 4.1% since 2014 and is expected to grow at a CAGR of 5.9% to nearly $565.4 billion by 2022, according to Berkshire Hathaway's Business Wire.
https://www.businesswire.com/news/home/20190606005537/en/Global-Gambling-Market-Reach-565-Billion-2022
StrateVic Finance Group AB is now positioned and aggressively targeting this massive industry.
StrateVic estimates onboarding several substantial iGaming operators during 2019 and will speed up the deliverables during 2020. MSIPay is also deeply involved in developing its brand-new aggregator with River iGaming's brand new technology gaming platform (www.riverigaming.com). River iGaming will be one of the initial companies profiting from this brand-new solution.
"We are pleased to find a position within the iGaming sector as well and are confident that our interesting offering provides a solution for remittance services," says Bert Scheen, Chairman of StrateVic Finance Group AB.
"We have been researching the market for quite some time looking for the right solution to complete our technological strategic set-up with MSIPay. We believe that BANKT will be a perfect strategic partner for supporting our growth and quest to become a major player in the industry, " says Kent Staahle, CEO of River iGaming.
StrateVic Finance Group AB (formerly: Stockholm IT Ventures AB) is a Swedish public company listed on the Frankfurt Stock Exchange since 2014 under the ticker symbol SVAB. The company specializes in FinTech, such as banking and trading in virtual and physical currencies. For more information visit: www.stratevic.com. You can also find the Company on Facebook, Twitter and LinkedIn.
Media contact:
StrateVic Finance Group AB, Bert Scheen, Chairman, bert.scheen@stratevic.com
Source: StrateVic Finance Group AB
Share:
---
Categories: Banking, Finance, Insurance
Tags: banking, bankt, blockchain, egaming, gaming, igaming, public company, trading
---