"Strangers in a Book" Screens at the Marché Du Film at Cannes
Press Release
•
updated: May 14, 2016
"Strangers In a Book" will be screening in the prestigious Marché du Film at the Cannes Film Festival on Monday, May 16th at 3pm at the Riviera and the Palais des Festivals et des Congrès.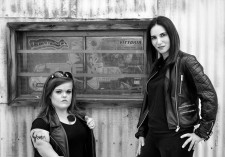 Cannes, France, May 13, 2016 (Newswire.com) - "Strangers In a Book" will be screening in the prestigious Marché du Film at the Cannes Film Festival on Monday, May 16th at 3pm at the Riviera and the Palais des Festivals et des Congrès. This film is a bold, psychological thriller that deals with loneliness and isolation in a city as vast as Los Angeles. "Strangers in a Book," written by Pedram Navab and directed by Marc Rezvani, follows Sara in actress Vida Ghaffari's (The Mindy Project, Mind of Mencia) dramatic debut, a hip and melancholic Iranian-American, who finds a misplaced book in a café. Intrigued by its contents, but unable to find the owner, she decides to interview the people in the notebook to decipher the identity of the mysterious man. The strangers whom she meets, considered the dregs of society, tell Sara stories about the enigmatic owner of the book, who is considered both diabolical and kind. In her relentless pursuit of the ultimate stranger, Sara is thus plunged into the horror of the unknown, where reality merges with art, and where existence itself is questioned.
Some of the characters Sara meets along the way are an ensemble of noted actors such as Jon Mack (Saw VI, The Effects of Blunt Force Trauma), Christy McGinity Gibel (Little Women: LA), Carl Bressler (Battlefield, The Usual Suspects), Kristin West (Circus of the Dead), Marv Blauvelt (Jurassic City), Candy Fuentes, Pooneh Navab and a special cameo appearance by writer-producer Pedram Navab. This film was directed by Marc Rezvani, who also has a cameo in the film David S. Barron was the cinematographer and editor. Myles Christensen and Bob Tiwana did the sound design.
"There are so many Iranian films that try to portray an 'Iranian-American experience,' but they mostly hearken to usually ancient customs and traditions and only solidify the West's fictional and stereotypical depictions of the East, Such films use Iranian signifiers, which make us visualize Iran as somehow different, unique, and magical. Instead, we wanted to show an Iranian-American, Sara, who is very much 'American,' but who still identifies as Iranian, although she may not necessarily interact with other Iranians or dress like them."

Dr. Pedram Navab, Writer, Executive Producer, "Strangers in a Book"
The film enlists bands from the hip and progressive Italians Do it Better label, such as Chromatics, Desire, and Johnny Jewel which really add to the style of the film.
"I'm thrilled that this film will be screening at the incredible Marché du Film! I'm also excited to play an Iranian-American character with no stereotypes or accents whatsoever. It was refreshing to break away from portraying veiled women or a glitzy Persian inhabitant of Beverly Hills especially in such a politically charged era where Iranians have do deal with many issues. And it's great to be a part of such an artistic, original film that is really resonating with a wide variety of audiences, especially in Europe," said Ghaffari.
​Even the sleek but subdued wardrobe in this edgy black and white film stood out. "The fashion was based on Film Noir, classic items but with a bit of a modern edge. I wanted the viewers to notice that the style was always classic and primarily monochromatic. The clothing in this shoot was entirely black, navy, white, and gray," said wardrobe stylist Pooneh Navab, who also had a cameo role in the film.
This film has also received 7 nominations at the prestigious FANtastic Film Festival in San Diego and won Best Guerrilla Film at the popular Action on Film (AOF) Festival in Monrovia, California and the noted Finow Film and Script Festival in Eberswalde, Germany.
Having this film screen in the French Riviera is sort of a homecoming for Ghaffari, as many of her relatives served in Iran's diplomatic corps in France as well as studied there. Vida's father, Dr. Abolghassem Ghaffari, was on a full academic scholarships for all his studies there where he received his L-es-Sc. in Mathematics at Nancy University. After obtaining post-graduate diplomas in Physics, Astronomy, and Higher Analysis, he worked on Mathematical Physics with Professor Maurice Frechet at the Sorbonne (Paris University). There he obtained his Doctor of Sciences with "Mention tres honorable"' for basic research on Mathematical Study of Brownian Motion and was a researcher on Celestial Mechanics at the Paris Observatory.
Farrokh Khan Amin Dowleh Ghaffari, was an emissary of HRH Naser Edin Shah Qajar to the court of Napoleon III and was later bestowed with the title of a Marquis De Amin Ol Molk by the French monarch. Mohandas Al-Mamalek Ghaffari, a brilliant scholar as well as an advisor and translator to the same shah in France and was bestowed the Legion of Honor for his service. Amir Sahamedin Zokaldoleh Ghaffari was Iran's Ambassador to France. Amir Nosratedin Ghaffari wrote 5 books in French about the famed Persian poet Rumi as well as other Persian poets and philosophers. Farrokh Ghaffari was the President of the Iranian National Film Archive in France and was also a highly regarded filmmaker there as well as a film critic for the magazine Positif.
Source: The Williamson Management
Related Media
Tags
Additional Links