Storytelling Show Features True Stories Told By Long Islanders From All Walks of Life
Press Release
•
Dec 27, 2014
This show features 4 true stories of personal experiences told live without notes in performance, but 3 contain lies and distortions. The audience gets involved with figuring it who is telling the straight story. Produced by Lifestage, Inc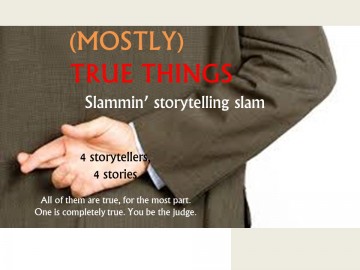 Smithtown, NY, December 27, 2014 (Newswire.com) - The first 2015 performance of Long Island's first local storytelling slam (mostly) TRUE THINGS will take place on Saturday, January 24, 2015 at 7 pm, at The Performing Arts Studio of New York, 224 E. Main St., Port Jefferson, NY. Tickets are $10 and can be purchased online at Brown Paper Tickets or at the door. Call 631-366-4265 or email bookings@lifestage.org for reservations. Complete information including bios of storytellers are available at www.mostlytruethings.com.
A storytelling slam is an invitation to share a slice of real life in a room full of people who appreciate a well-told tale. This show features 4 storytellers, each sharing a true story but only one tells the unvarnished truth. The other 3 are also narratives of personal experiences but with anything from little white lies to whopping inconsistencies woven into it. After all the stories are told, the audience gets into the action, asking questions of the tellers, then voting for who is the telling the whole truth. Winners get a prize.
"It was a profound experience"

Alicia R Peterson, abstract painter,
(mosty) TRUE THINGS features Long Island citizens from all walks of life. Recent shows have featured a television news producer, a psychic medium, an abstract artist, a health educator, and an MBA among a wide range of other professions. "There is laughter in the room" wrote New York Newsday in a November 20, 2014 feature article about this monthly event, and "it was a really profound experience" according to Alicia R. Peterson, one of the storytellers that evening who was quoted for the article.
The show is hosted by storyteller, improviser, writer/performer and creative arts psychotherapist Jude Treder-Wolff, whose solo storytelling show Crazytown: my first psychopath was a Featured Selection for the 2012 Chicago and San Francisco Fringe Festivals, selected for the 2013 Midtown International Theater Festival and performed in 2 successful runs at Actors Theater Workshop and at The Pit-The Peoples Improv Theater in New York City.
Related Media
Tags
Additional Links