Stopmotion Children's Show Features Single Working Dad - Filmmaker Takes 20,000 Photos
Press Release
•
Aug 16, 2016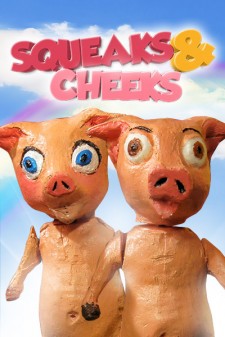 EDMONTON, CANADA, August 16, 2016 (Newswire.com) - ​​​​​​​This month, a new children's stopmotion show from Rebecca Campbell Productions, 'Squeaks & Cheeks', which portrays an underrepresented family dynamic, goes live on YouTube.
This six part mini-series was made in partnership with TELUS Optik Local. Filmmaker, Rebecca Campbell, says she wanted to do something different: "It seems like 99% of kids shows these days are CGI animation. I wanted to make something that I would have watched growing up – something different than what kids see on TV today."
All six episodes of the program are now available for free on demand on TELUS Optik TV with a huge focus on Youtube.
The show is about two little pigs that go on adventures, and learn life lessons along the way. They are also the children of a single father who works at a Pancake Parlour. When asked why the push on YouTube, Campbell infers the answer is obvious: "If you were to ask my little niece what 'TV' is, she'd run to get her tablet."
Over the course of the episodes, you'll experience everything from Papa Pig chasing an Egg Bandito out of Pancake Parlour; to pigs trying to fly; and drinking tea and playing croquet with peacocks. The sixth episode is a behind the scenes look, and teaches kids how to use their imagination - including how to turn Styrofoam into pancakes.
"To me, it was important to ensure that the show teaches lessons and morals in a very silly environment that captures a child's imagination" Campbell says.
Rebecca Campbell Productions
She specializes in the production of children's programming, stop-motion, ambient television and 360 video. 'Kanada Girl' was her first documentary and has screened at 16 international film festivals, including two academy-award qualifying festivals. Rebecca is currently in development on multiple projects. She also has experience working on commercials for a national broadcaster, as well as docu-series, documentaries, ambient television, and a children's pilot show for a local production company.
About TELUS Optik Local Content Programming
TELUS Optik Local seeks to support programming and projects that reflect the local community, a diversity of voices, innovative ideas and alternative views on existing or emerging issues of importance in the communities it serves, featuring local places and events in arts, culture, education and sport.
Media Contact: REBECCA CAMPBELL, Producer, Rebecca Campbell Productions
780-803-2264
Twitter: @CampbellReb
Source: Rebecca Campbell Productions
Related Media
Additional Links