Stop Wasting Hours Finding a Photographer - KYMA Now Covers 50 Countries Around the World.
Press Release
•
May 19, 2016
KYMA, the Airbnb / Booking.com for photographers now covers 50 countries around the world.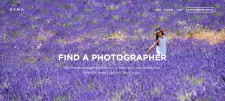 New York, NY, May 19, 2016 (Newswire.com) - Finding & booking a photographer is still a very tedious task for anyone even in this era of Uber-ization of services. From browsing each photographer's website to sending a tremendous amount of emails to photographers just to ask for their prices, finding your photographer is a terribly old school task that wastes countless hours on both sides.
Without a centralized platform, like how booking.com is for hotels, hiring a photographer takes long email discussions that both clients & photographers would like to get rid of. On the other end, photographers would also love to see the benefits of such a marketplace emerging to do some heavy lifting for their marketing.
Imagine Booking.com meets Airbnb but for photographers. KYMA a marketplace for photographers takes on the challenge to help people find and securely book their photographers online while helping photographers find new clients around the world.
Pierre Lambert, the founder of KYMA, is an engineer by training & photographer by passion. He comments, "Can you picture yourself emailing 25 hotels in a city to ask for their prices? Of course not! This is madness and has to stop. Photographers should not spend most of their time replying to emails nor should clients spend their time sending emails to receive a price."
The photography industry is in a big need for change and it will benefit both parties. Making it more convenient to book a photographer will increase the likelihood of people hiring one. Photographers would benefit in an increase of their actual shooting time and a decrease of marketing / sales time.
With photographers listed in over 300 cities around the world, KYMA is experiencing a rapid growth and caters mainly to individuals in search for a photographer to keep their memories alive (weddings, engagements, family shoots, portraits…). Photographers who joined, love the concept and provide very valuable feedbacks to keep building an amazing tool. Clients are seduced by the simplicity of it and love knowing that 1% of their photo shoot price is going to charities in which KYMA believes.
With a beta launched in January 2015 and the official release in February 2016, KYMA is here to change the photography industry for the better.
Source: KYMA
Related Media
Additional Links