Stirling CBD Unveils New Line of Delta 8 and Delta 9 Sleep Gummies, Revolutionizing Rest for Busy Professionals
Press Release
•
Jun 1, 2023
Sleep patterns in the US are getting worse - Stirling's new Sleep Gummies can help.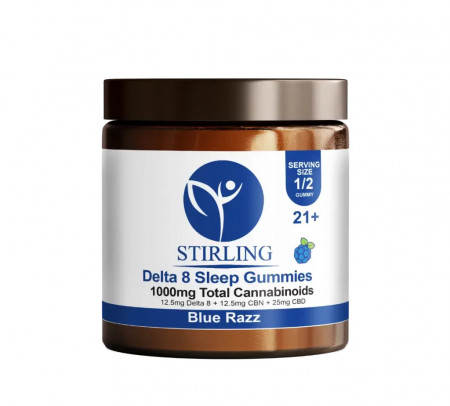 APEX, N.C., June 1, 2023 (Newswire.com) - Stirling CBD, a leading provider of high-quality CBD products, is proud to announce the launch of its groundbreaking new line of federally legal, hemp-derived Delta 8 and Delta 9 sleep gummies.
These innovative sleep aids have been expertly designed to address the unique needs of busy professionals and provide a natural, safe, and effective solution for improved quality of sleep.
In today's fast-paced and demanding world, stress and sleep issues are becoming more common. Many individuals, especially professionals facing high-pressure environments, struggle to unwind and find quality sleep.
According to the American Institute of Stress Statistics, 48% of people have trouble sleeping because of stress and burnout - while according to the Mayo Clinic, burnout is a major factor contributing to poor sleep patterns.
Recognizing the need for improved sleep, Stirling is launching its new lineup of Sleep Gummies. With their unique blend of natural ingredients, these gummies have quickly become a favorite among individuals seeking a safe and effective sleep aid.
But how can Stirling's Sleep Gummies help Professionals sleep better?
Stirling's new Delta 8 Sleep Gummies and Delta 9 Sleep Gummies are carefully crafted using a unique blend of premium ingredients, including low doses of Delta 8 or Delta 9, CBN, and CBD. This combination of ingredients is known for its calming properties. These gummies provide a safe and convenient way to promote relaxation and improve sleep quality.
"We understand the importance of a good night's sleep in maintaining overall well-being and productivity," said Joe Kryszak, CEO at Stirling. "These gummies for sleep are specifically designed to provide stressed professionals with a natural sleep aid that helps them unwind and wake up refreshed."
Key features of Stirling CBD's Delta 8 and Delta 9 Sleep Gummies include:
Fast-acting (30-40 minutes) and long-lasting formula to release the perfect blend of cannabinoids throughout the night
100% natural ingredients and non-habit-forming formulation
Free of artificial flavors, colors, and preservatives
Easy-to-consume tasty gummy form
Third-party lab-tested for potency and purity
Produced in GMP-certified facilities, adhering to strict quality control measures to ensure consistency and purity of the product.
Sleep is essential for overall well-being and productivity, yet many people struggle to get the rest they need due to stress and various other factors. Stirling's Delta 8 for Sleep and Delta 9 for Sleep were specially formulated to address this issue, offering a convenient and delicious way to improve sleep quality and promote relaxation.
Stirling uses high-quality hemp-derived extracts, ensuring purity and potency. Each gummy is infused with a precise dosage of CBD and CBN, delivering a consistent and reliable experience with every serving.
They are available in a variety of flavors, such as mango, blue raspberry, and strawberry/watermelon, making them a delightful treat that users can look forward to before bedtime.
Stirling is a trusted provider of premium CBD products dedicated to improving the well-being of individuals. With a commitment to quality and customer satisfaction, we strive to offer innovative solutions that harness the power of hemp-derived compounds. Their extensive range of products includes oils, capsules, topicals, and edibles, all created with care to deliver optimal results.
Source: Stirling CBD