Still Rollin': 336 Productions Celebrates 10 Years in the Corporate Video and Video Marketing Industries
Costa Mesa-based media company has been calling "Action!" for a decade.
Press Release
-
updated: May 29, 2018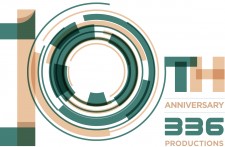 COSTA MESA, Calif., May 29, 2018 (Newswire.com) - ​Marlowe and Josh Stone, the wife and husband team of 336 Productions, are beyond thrilled about their business' big anniversary, "I mean, I guess it's cool," Josh said during an editing break. He was kidding, of course. Take 2: "When we started the company in 2008 the conversations I was having with potential clients were about 'Why you need video,' and 'Why you should work with us,'" states Marlowe Stone. "10 years later everyone wants video, and that's great. Not only do brands understand the importance of quality video, but they understand the importance of finding a great video partner to produce content for them, and we have brands reaching out to us because they want 336 Productions to create their videos. It makes us very proud."
As a leading video production company in Orange County, 336 Productions understands that successful video marketing takes skill, strategy, time, dedication, and most importantly, powerful video content. And so, for the past 10 years, they have been creating top-notch corporate and brand videos for their clients.
From creating trade show videos for Fortune 500 companies, to marketing videos for government projects, to animating motion-graphic explainer videos for tech giants, they've come a long way since their journey began.
"When we first started, we worked out of one bedroom. We had the bare necessities of video equipment, and just enough work to keep us going that first year. Over the years, we've been able to work many global brands. We've been able to improve our skills, get our hands on the latest technology, and work with the most talented crews. The past 10 years has been the best kind of rollercoaster ride and through dedication and hard work, we've learned to be patient and focus on what we do best: video creation," commented Josh Stone, the co-founder of 336 Productions.
Their clients seem to agree, what makes them stand out is their dedication to the success of all their projects (small or large), willingness to experiment with innovative ideas, understanding of current trends, fun, stress-free sets, and passion for delivering top-notch, friendly customer service.
Having produced work for high-profile clients, such as Canon, SAP, Fujitsu, Salvation Army, boscia and Thales, they continue to hone their skills for future success.
One of their first projects was producing the trailer for the popular self-help documentary, The Compass. Since then, they have worked on hundreds of corporate and brand videos. One of the latest additions to their portfolio is the Fujitsu Product Line Series and boscia's Social Media Videos.
336 Productions is not only known for their live-action videos, but for their motion-graphic ones as well, like the PriceSpider Video and the Neudesic Tech Vision Video.
"While we're happy with what we have achieved so far, we still want to grow. We feel accomplished and grateful for the good relationships we've built with our clients and look to build on that great foundation. We believe that through staying creative and focused, and by providing the best brand video services to our clients, we will be able to achieve even more in the next 10 years," commented Marlowe Stone, talking about the future of 336 Productions.
The video production company has garnered attention for its flawless execution of concepts and helping create uniquely branded content for each client they have worked with. To hear a whole lot more about the company, contact Marlowe Stone at marlowe@336productions.com.
Source: 336 Productions, LLC
---
Categories: Small Business
Tags: brand video, corporate video, family business, film shoots, husband and wife team, internet video, media, orange county, small business, video marketing, video production company, video vendor
---
Related Files
Additional Links