StevenDouglas Recruiting Dominates the Florida Hiring Scene With an Array of Awards and New State-of-the-Art Office Location
Press Release
•
Aug 29, 2023
StevenDouglas proves they are a powerhouse national firm that is not only #1 in Florida but is also ranked in the Top 25 in the United States.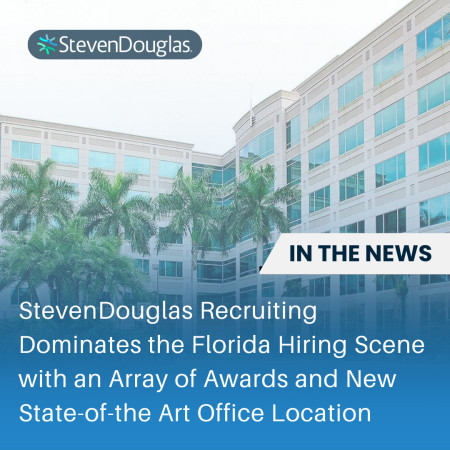 FORT LAUDERDALE, Fla., August 29, 2023 (Newswire.com) - StevenDouglas, a national search and interim resources firm founded in Miami in 1983, has experienced unprecedented growth over the last decade, being honored this year with multiple awards including named on the prestigious Inc. 5000 that celebrates the fastest-growing private companies in the United States. Despite a turbulent job market, the national recruiting firm has continued to deliver positive results and maintain impressive progress in recent years, proving to be a stand-out in the recruiting space with their diverse service offerings to accommodate the growing needs of clients across the Americas.
In March of 2023, StevenDouglas moved to new updated, state-of-the-art offices in Broward County to support their on-going national expansion to over 25 markets in the U.S. as well as a presence in Latin America and Canada. StevenDouglas' dominance of the Florida market after almost 40 years in business has brought many accolades in the first half of this year, including the firm being ranked #1 Executive Search Firm in South Florida by the South Florida Business Journal (SFBJ) and appearing on the Hunt Scanlon Top 25 Executive Search Firm list which ranks firms across the Americas. These rankings position StevenDouglas as not only the #1 Executive Search firm in Florida, but also in the southeastern United States.
StevenDouglas is honored to be recognized for their unique office culture and "do the right thing" business philosophy that the firm has become known for over the last four decades. In 2023, StevenDouglas was proud to be named on the SFBJ Best Place to Work and Sun Sentinel Top Workplaces lists, as well as being a SFBJ Business of the Year and on the Fast 50, all in the span of a few months. Since 1983, StevenDouglas has made service to the community and giving back a priority, donating to and supporting various local causes year after year.
StevenDouglas CEO Matt Shore had to say about the first half of 2023, "I'm overwhelmed to be honored in so many unique ways with awards that really show how multi-facetted and special StevenDouglas is to both our clients and employees alike. Our goal is to continue to foster the incredible culture we have built, as this allows us to attract and retain the best talent in the industry, which translates into great outcomes for our clients."
StevenDouglas has created over 2000% growth since 2005, making it one of the fastest-growing firms in America. Founder Steve Sadaka and CEO Matthew Shore have opportunistically expanded the firm from 1 office and 15 employees into a national business with 25 offices and over 150 professionals. This rapid expansion was based on their belief that by providing exceptional services to clients and working closely with them as trusted advisors, you're able to create successful outcomes. The firm's commitment to innovative, recruiting solutions inspired a move to a brand-new corporate headquarters in Sunrise, FL earlier this year that boasts state-of-the-art conference area and fresh, open workspaces as well as a large communal café with areas for employees to decompress and unwind.
"I love that the firm keeps growing, and it's so gratifying to see a dream unfold," said Founder Steve Sadaka. "I'm really humbled by the awards this year, but my favorite part of the year so far has been our new, amazing office space that really shows that the firm is positioned to not only be successful now, but that we are readily planning for the future."
About StevenDouglas:
StevenDouglas, one of the nation's leading boutique Search and Interim Resources firms, has been a recognized leader in identifying and providing access to top talent for clients since 1983. Our client base is industry agnostic and ranges from emerging middle-market to Fortune 500 companies, private equity and venture capital firms, hedge funds, family offices and wealth management firms. Recognized as a Top 25 Executive Search firm, our footprint has expanded to over 20 offices, and more than 150 professionals committed to creating successful outcomes for both clients and candidates.
The firm has been connecting premier candidates to their client base that spans an array of high- demand disciplines, and a broad range of industries. StevenDouglas is nationally known for search expertise in Finance & Accounting, Human Resource, Information Technology, Executive Leadership, Financial Services, Operations, Sales & Marketing, Legal, Risk & Compliance, Supply Chain & Logistics; As well as providing interim resources and staffing for Information Technology, Finance & Accounting, and Human Resources.
MEDIA INQUIRIES:
Minda Long
minda@stevendouglas.com
954-385-8595
Source: StevenDouglas
Related Media