Step Into the Future With Yuemey's Revolutionary Social-Professional App Launching Live at Disrupt NY 2016
Introducing Yuemey, an app that is creating a social-professional ecosystem for modern networking.
Press Release
-
May 3, 2016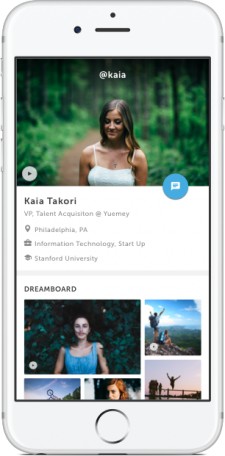 New York, NY, May 3, 2016 (Newswire.com) - The latest buzz in the world of virtual networking and recruiting comes from Yuemey, a groundbreaking app created by Tejas Bodiwala, CPO/CTO (Philadelphia, PA) and Cary Weir Lytle, CEO (Boston, MA). Yuemey is revolutionizing today's $3.5 trillion talent management and professional networking markets by implementing innovative features and technology that truly disrupt today's one-dimensional recruitment platforms, including: visual profiles, location-enabled groups, A.I., interactive communication tools and virtual recruiting.
 
By skillfully blending features, each with more touch-points than any other platform, Yuemey inspires people to interact while also making self-promotion and managing new relationships easy. Meet, search, endorse, collaborate and refer; share your goals, talents, and interests; message, video-chat and more. There are no limits with Yuemey!
 
Hacking Disrupt like never before, the app is scheduled to launch on the opening day of the conference, May 9th. Yuemey has created the official (unofficial) way for attendees from any Disrupt conference to stay in touch – you can use its dynamic, location-enabled group features to seamlessly connect while you're there. The app's unique visual profiles will help Disrupt visionaries foster relationships and share their ideas with each other, and communication features will make meeting the right connections easy.
 
Unlike other virtual networking and recruitment apps, Yuemey utilizes artificial intelligence to create advanced processes for communicating and hiring. By creating a more intelligent ecosystem anyone can access talent directly and serve as a brand ambassador, referral agent, and member of a recruiting team. Recruiters and companies also have visual profiles, interactive features and assessment tools – which drive a holistic approach to assessing fit and sparking the right relationships. This all-encompassing approach helps companies engage in transparent, relational hiring so teams can flourish and tackle their goals together.
 
Yuemey is growing rapidly with vast opportunities for collaboration and involvement. With the support and generosity of advocates, industry influencers and forward-thinking partners, Yuemey will continue to encourage and connect today's visionaries by providing an outlet to showcase their story in ways as unique as they are. Chat with a representative at Disrupt NY 2016, and visit the app store on May 9th, to learn more about how you can connect with and through Yuemey.
 
Share your vision. Join the Yuemey movement. For more information, please contact [info@yuemey.com] and visit www.yuemey.com.
Source: Yuemey
Share:
---
Categories: Career Planning, Social Media, Information Technology, Human Resources, Artificial Intelligence and Expert Systems, Staffing
Tags: app, artifical intelligence, career, disrupt, hiring, launch, networking, professional, recruiting, social, startup, techcrunch
---