Stenograph's MAXScribe to Become the Primary Editing Software for Learn to Transcribe Academy
Press Release
•
Aug 3, 2023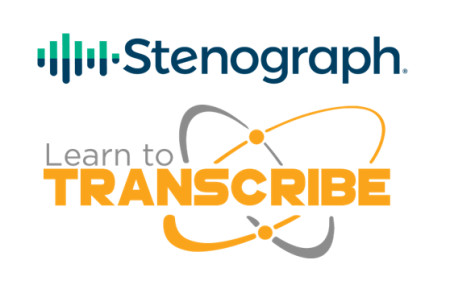 DOWNERS GROVE, Ill., August 3, 2023 (Newswire.com) - Stenograph®, LLC announces a partnership with Learn to Transcribe™ Academy to further its support of court reporting and transcription education. Learn to Transcribe Academy has named Stenograph's digital court reporting and transcription software, MAXScribe™, the primary software of its legal transcript editing program. To help prepare students for AAERT Certifications such as CET, Learn to Transcribe Academy will also be leveraging material from Stenograph's Digital Reporting Academy within its curriculum.
"As a result of rapid technology advancement, a shift is occurring toward editing versus manually transcribing testimony and other legal files. We are pleased to add MAXScribe software editing to our array of courses and know that our graduates will help fill the expanding need for professionally trained editors of various types of litigation files," stated Linda Wilson, CCR, owner of Learn to Transcribe Academy.
"More legal proceedings are being taken digitally or remotely, and accurate and professional legal transcription continues to be an essential element of that process. Learn to Transcribe Academy's specialized programs for teaching legal transcription will equip students with skills and experience to perform in a digital environment and expand the highly skilled MAXScribe workforce desired by court reporting agencies," stated Sunny Hann, Sr. eLearning Architect, Stenograph.
Stenograph feels strongly that there should be an educated, certified court reporter in every deposition or courtroom, remote or in-person. As part of Stenograph's commitment to education and the growth in the number of students and certified reporters entering the field of court reporting, the company is licensing training materials to partner schools, like Learn to Transcribe Academy, through the Stenograph Education Network.
About Stenograph, LLC
Stenograph is a market leader in providing technology solutions for the legal transcription industry. For nearly 85 years, we have built our reputation by leading the industry in technical innovation, quality, and exceptional service. For questions on Stenograph's Education Network, please contact Stenograph Enterprise sales at elearning@stenograph.com.
About Learn to Transcribe Academy
Learn to Transcribe Academy is a highly successful online learning center that teaches the requisite skills and art, from beginner to advanced levels, for production of near-perfect transcripts. For more information on Learn to Transcribe Academy, please contact Linda Wilson, CCR, at info@learntotranscribe.com.
Source: Stenograph, LLC