Steadily Raises $28.5 Million to Scale Landlord Insurance Offering to Meet Consumer Demand
Press Release
•
Jul 5, 2023
Series B Round Led by Zigg Capital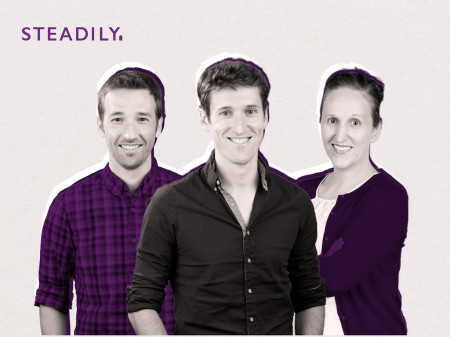 AUSTIN, Texas, July 5, 2023 (Newswire.com) - Steadily, America's top-rated landlord insurance company, today announced that it has raised $28.5M in a Series B funding.
Steadily serves the 18 million individual rental property owners who collectively own the large majority of single-family and small multi-family rentals across the U.S. Steadily has built a reputation for making landlord insurance fast, easy, and affordable, which has resulted in rapid growth of 325% year over year.
The latest round brings Steadily's total funding to $59.5M, following a $16M Series A in 2021. The new investment was led by Zigg Capital with participation from Matrix Partners, Koch Ventures, Clocktower Technology Ventures, and Nine Four Ventures.
"As property investors ourselves, we understand the unique challenges and needs of rental property owners," says Datha Santomieri, Co-Founder of Steadily. "Steadily has built an intuitive digital platform to empower landlords with insurance quotes online in minutes, 24/7, from the palm of their hand, in all 50 states. Our product is built to deliver an exceptional customer experience at every touch point, enabling real estate investors to easily access insurance at all stages of their customer lifecycle. The ongoing support from our investors enables Steadily to continue scaling quickly to meet the growing demand of our product with investors nationwide."
Steadily has gained traction in the real estate investor space as an easy, intuitive direct-to-consumer insurance provider. Beyond direct sales, Steadily has also seamlessly integrated its product into the broader real estate ecosystem via embedded insurance offerings for independent agents, property management systems, lender software, and more. Steadily's meticulously designed mobile-first experience pre-fills many data points like property size and year of construction, saving the user time and hassle over filling out long manual forms. Users can receive an insurance estimate online in minutes and speak with a team of specialized insurance agents who can answer specific coverage questions via phone, email, or SMS. The result is a fast, affordable, and delightful experience that has earned Steadily 4.8 out of 5 star rating and glowing recommendations from customers.
"Zigg looks to invest in companies that have the potential to dramatically improve the existing experience for clients," says Dave Eisenberg, Co-Founder and Managing Partner at Zigg Capital. "When it comes to real estate, the category has been slower to evolve, and insurance in specific has a reputation for outdated processes and lackluster service. Clients are demanding a more modern experience from their insurers and Steadily has proven itself a standout leader in this space. The team is fulfilling an unmet need in a growing market and continuing to better itself over time with a clear focus on user experience at every touch point."
Steadily began operations as a retail agency, working with carriers and wholesalers nationwide to offer customers the best possible rate and coverages for their rental properties. Steadily's proven success has resulted in increased binding authority with existing carriers and expanded operations to include program administrator capabilities. This results in a faster digital rate, quote, bind experience, and more competitive value for the end consumer.
Next, the company plans to expand its mobile-first experience with new tech such as embedded IoT devices to prevent property damage from happening in the first place. These applications will help Steadily reduce the volume and severity of future claims as well as provide peace of mind to landlords. Steadily's advanced data analytics will help claims get paid faster, reduce the magnitude of property damage claims, and ultimately lower the cost of insurance to customers.
About Steadily
Steadily was founded by a veteran team of insurance experts and rental property investors to offer modern, high-quality insurance to rental property owners. The company is dual headquartered in Austin, Texas, and Overland Park, KS, and is backed by investors including Zigg Capital, Matrix Partners, Koch Ventures, Clocktower Technology Ventures, Nine Four Ventures, Peak State Ventures, Vesta Ventures, and SV Angel. Learn more at https://www.steadily.com and stay in touch @SteadilyInsure and Facebook.com/SteadilyInsurance.
About Zigg Capital
Zigg Capital is a venture capital firm based in New York City that invests globally in technology companies that touch the real estate, construction, or retail industries. Over the last decade, the partners in Zigg have made early-stage investments in leading companies such as Procore, Matterport, Snapdocs, VTS, Kasa, and Tend. For more information, please visit www.ziggcap.com.
Source: Steadily
Related Files