Staten Island's First and Only Authentic Hot Yoga and Pilates Studio Celebrates Its Best Yoga Studio Win and 3 Year Anniversary With Free Classes, New Promotional Video and Plans to Expand
Press Release
-
updated: Mar 9, 2017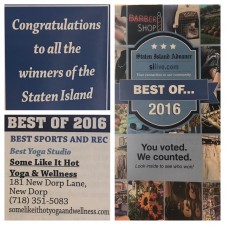 STATEN ISLAND, NY, March 9, 2017 (Newswire.com) - Whether you are looking to tone your muscles, increase your flexibility, lose weight, meditate, sweat out the toxins or for somewhere to escape it all...Winner of the Staten Island Advance Reader's Choice Award, Some Like It Hot Yoga and Wellness, has something for you. Some Like It Hot Yoga and Wellness is celebrating it's three year anniversary on March 22nd and to celebrate they are offering free classes on March 24th, 25th and 26th. (preregistration is required)
Located at 181 New Dorp Lane, Some Like It Hot Yoga and Wellness opened there doors on March 22, 2014 as Bikram Yoga Staten Island, a Staten Island, New York-based hot yoga studio. As the premiere and only authentic Bikram Hot Yoga Studio on Staten Island, they were the first to bring the long awaited hot yoga practice to the borough. Bikram Yoga originated in the 1970's and consists of 26 postures and two breathing exercises practiced in a room that is heated to 105 degree's/40%humidity. 
Within the last 3 years, owner, Nicole Stuckey, rebranded changing the studio's name to Some Like It Hot Yoga & Wellness, was one of the first hot studios to add a 60 minute version of the well known 90 minute class, as well as Inferno Hot Pilates, a challenging full body, low impact, fat burning HIIT/Pilates fusion class, which is practiced in a room heated to 95 degrees and Kick Your Asana, a heated 60 minute vinyasa flow class to their schedule. Additionally, they began their first Hot 26 & 2 Teacher Training and has partnered with other local gyms and studios so that each studios members get to enjoy what the other offers at a discounted rate. Some of these include Limitless Fitness Studios, North Star Yoga, and CKO Kickboxing. 
Knowing all too well the apprehension some people may have because of the heat, fitness ability discipline or yoga in general, Some Like It Hot Yoga and Wellness strives to make these classes accessible to everyone. Each class is designed as a beginners class and offers a complete mind & body workout for all levels, regardless of your age, level of fitness, flexibility, and experience. With this in mind, the studio recently released a promotional video which highlights the studio filled with a great range of students in age and fitness ability as well as offers an insight into some of the classes. 
Owner, Nicole Stuckey says, "We have worked really hard to create a studio unlike many others. A large, clean, efficient studio to practice in, a practice and teaching staff that is consistent, new and innovative classes and an amazing community of yogi's. I believe in the power of the 26 & 2 class… the combination of the heat, humidity, dialogue, and postures sequence is magical! Not only in the science of one posture preparing your mind and body for the next, but also in the moving meditation that goes hand and hand with the intensity. Inferno Hot Pilates and Kick Your Asana has allowed our students to step out of their comfort zones a step further and add some strengthen training to their workouts. It's a perfect combination. As both a teacher and a student, I believe if you try your best, and have a consistent practice, the benefits received are unlimited. I find great joy in seeing the transformations in a person's body, abilities, and mind-set. I am beyond thrilled to have had the opportunity to bring this amazing practice and it's healing benefits to Staten Island. Sweat with us and overtime you will develop strength, flexibility, determination, muscle tone, and an overall sense of well-being."
Ms. Stuckey plans to open a second studio on the North Shore next year as well as begin to franchise nationally.
To register for free classes, create an account on our website and select "Free Anniversary Class." This option will only be available on 3/24, 3/25 & 3/26.
The studio is located in central Staten Island at 181 New Dorp Lane.  Students can access one of the many metered and/or street parking spots or through public transportation as the studio is conveniently situated one block from the New Dorp train stop and a few blocks from many local and express buses on Hylan Boulevard and Richmond Road. The 5,000 square foot space is one of the largest hot yoga studios and one of the few studios with the most state-of-the-art heating system in the tri-state area. A range of amenities including Flotex flooring, which is slip resistant, waterproof and offers constant protection against bacteria, spacious changing rooms and showers, welcoming lobby, and a boutique. 
###############
About the Owner
Following two years of a daily practice, Nicole signed up for and completed her Bikram Yoga teacher certification in Spring 2011 and prior to opening Some Like It Hot Yoga & Wellness, taught for four years full time throughout Brooklyn and Manhattan, NY, and Naples, Florida. Nicole is a graduate of St. John's University with a Bachelors degree in Communications and Business. She has also completed a Graduate Certificate in Event Management from George Washington University. Prior to teaching Bikram Yoga, Nicole worked as the Event Management and Hospitality Liaison for Nets Basketball and is the founder of A Tailored Event. Her commitment to a healthy lifestyle and green living is noticeably realized through this state-of-the-art studio. She brings her vast experience in Hot 26, Inferno Hot Pilates and overall wellness to the practice.
For more information on Some Like It Hot Yoga & Wellness:
Website: www.somelikeithotyogaandwellness.com 
Facebook: https://www.facebook.com/SomeLikeItHotYogaandWellness
Promotional Video: https://m.facebook.com/story.phpstory_fbid=1277302109020921&id=218716281546181&refsrc=https://m.facebook.com/SomeLikeItHotYogaandWellness/videos/1277302109020921/&_rdr 
Contact:
Nicole Stuckey
Some Like It Hot Yoga & Wellness
917.921.7345
nicolestuckey@me.com
Source: Some Like it Hot Yoga and Wellness
Share:
---
Categories: Sports, Fitness, and Recreation, Yoga / Meditation, Business
Tags: bikram, bikram yoga, fitness, hight intensity interval training, hiit, hot pilates, hot yoga, inferno hot pilates
---