State Senator Thanks the Scientology Volunteer Ministers of Miami
Press Release
•
updated: Oct 12, 2017
For their unconditional help to the people of District 38 during Hurricane Irma, Florida State Senator Daphne Campbell presented a proclamation to the Volunteer Ministers of the Church of Scientology Miami.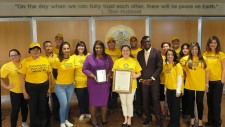 MIAMI, October 12, 2017 (Newswire.com) - Florida State Senator Daphne Campbell presented the Church of Scientology Miami with a proclamation thanking the Church and its Scientology Volunteer Ministers for their "generous and continued support of Miami residents when it was most needed."
As Irma approached the coast of Florida last month, with the National Hurricane Center predicting a direct hit in Miami, the Church of Scientology Miami was designated as an Emergency Disaster Relief Resource Center and a team of Volunteer Ministers mobilized to ensure the community received the help they needed. They immediately began collecting and organizing donations of food, water, and emergency supplies and provided a safe place for some 200 neighbors to store their cars in the Church parking structure.
The storm struck Miami Sept. 10 and the Volunteer Ministers provided relief to evacuees in the North Miami Middle School hurricane shelter. They prepared and served more than 1,000 hot meals to patients at a North Shore Medical Center senior care unit, elderly residents at five northeast Miami apartment buildings, and youngsters in a home for abused children awaiting foster care or adoption.
Local radio and TV stations promoted a donation drive for those who took the brunt of the storm in the Florida Keys, and the community responded with massive donations of food and emergency supplies, which the Volunteer Ministers helped organize and package for shipping.
Miami City Commissioner Francis Suarez asked for their help in cutting down trees that were entangled with high-tension wires during the storm. With the help of their partners, Los Topos, the renowned Mexican search and rescue team, they were able to carry out this task. And they also worked with Los Topos on neighborhood cleanups.
The motto of the Scientology Volunteer Ministers is "Something can be done about it," and the Senator was grateful that the volunteers from the Church of Scientology Miami proved that was true through their help of so many of the residents of her district.
For more information on the Volunteer Ministers, visit the Scientology Newsroom.
Source: ScientologyNews.org
Related Media